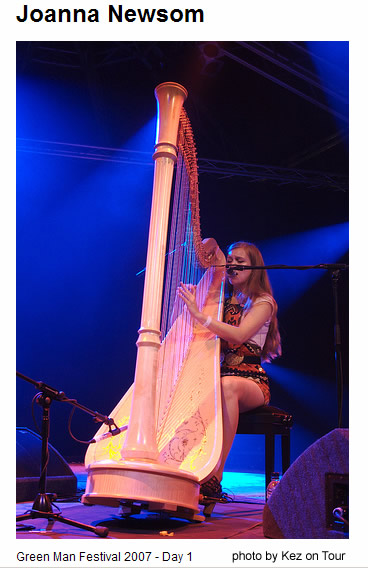 Joanna Newsom Completely controls a crowd of 7,000 and converts the doubtful at this year's Green Man Festival.
The most surprising event at This Year's Green Man came in the form of an American performer who is getting a small amount of coverage here in the USA. and is at this time known only by the most cognizant and up to date music lovers. Who would have thought that a Celtic harp playing girl from California with a voice that sometimes seems like it can crack glass would be able to completely mesmerize a crowd of perhaps 7,000 late night festival revelers at an outdoor performance to the point of hearing a pin drop with all attention (at least anywhere near me) locked on Joanna Newsom? One thing I like to do at concerts or plays that I perceive are going exceptionally well is at a moment of brilliance from the performers, take a look around at the audience, taking in the looks on their faces. Their expressions at those moments are priceless and a real time affirmation of what I already perceive as a very successful performance. Needless to say that whenever the attention of a large group of cidered-up party people is suddenly captured en masse something special is happening onstage.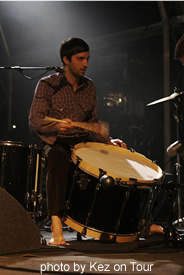 There was a very evenly divided debate going on among the festival goers I talked to and online with people who had heard only her recordings opting to go for the rock band Tuung who was playing on another stage at the same time. Many people including myself at that time were not totally convinced they were going to be able to enjoy Miss Newsom. But equally vocal were the people who had seen her perform already and were ready to take a stand in proclaiming her as one of the main reasons to come to the Green Man Festival this year. Some pierced punk rockers who were going to see Tuung told me that If I hadn't already seen Joanna to go see her instead.
Joanna walked onstage seeming completely confident from the moment she appeared, a radiant smiling personality that soon had the entire audience purring in her lap with an effortless display of natural talent giving her an overwhelming stage presence. This is a quality for all artists and performers to be jealous of. It has been my experience that the truly gifted artists are also the most gracious and easy to work with, not having that crippling lack of confidence that can so often sabotage a performance or even a whole career. This lady looks like she's going to be able to do anything she pleases from here on out. It doesn't even matter if people think they like her or not because she'll clear a path wherever she touches down and gather around a loyal fan base around her who simply KNOW.
Early on I was having conflicts listening to Joanna Newsom, couldn't quite accept her voice, didn't know whether to run away or come back out of curiosity when a young performer here in town named Stratton Tingle told me he'd gone to se her in Nashville and that she was awesome, he then said that he'd even learned to play one of her songs on guitar and proceeded to play it. Then I asked if he could sing like her too and he actually could and did it! This kid is and his band is "Antebellum" Hopefully they'll keep it together long enough to make a name for themselves. With that said I must say that I still haven't gotten a copy of her recordings and only have heard what is available streaming online plus the small amount of radio play she's gotten here.
And You may count a very lo-fi bootleg I made of "Book of Right On" on my little digital voice recorder, not at all designed for music but still capturing the astounding harp finger work and iconic status of this song among her fans. This recording was made almost by accident, on the spur of the moment as an experiment, but the excellent sound quality at the festival coupled with the hush that befell the audience as they were mesmerized by this performance makes it well worth listening. Two songs by Joanna Newsom including "The Book of Right On" are featured on the ArtFRONT Podcast page, which You can hear by clicking on this nifty little tab..

In addition I've become a frequent listener of a song titled "Sprout and the Bean" found on a pirate myspace page , www.myspace.com/joannanewsom000 which You can listen to as long as it lasts on there. I guess it's about time I got some copies of her CD's. When I asked when Joanna Newsom became such a high profile act in the eyes of the British music aficionados I was suggested that the two previous Green Man performances cemented her reputation and caught the eye of media who helped spread the news. With all this talk of natural talent and stage presence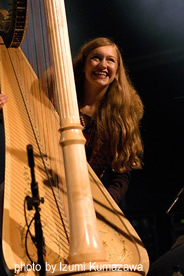 I'm not meaning to imply that all her abilities have not been earned by hard work. Joanna Newsom is an accomplished musician in a very intellectual discipline. It is also obvious to many who have been listening that her vocals have steadily improved or matured since "The Milk Eyed Mender" first caught peoples attention. In November she will be on a short North American tour backed up by a full orchestra and the one appearance close enough for me to drive to will be in Atlanta on Nov. 17th at Woodruff Arts Center Symphony Hall.
I've already initiated communication with her agents through my little promotion & production company to see what It will take to get her to come to Chattanooga for a performance. The local people I've mentioned this idea to have told me that they think that she will bring in an even larger crowd than local favorite Andrew Bird, which seems unfathomable to me but I'm certainly willing to give it a try. Another more detailed perspective from someone a bit more familiar with this artist and with loads of Green Man Photos is found at http://mog.com/KezOnTour
Joanna Newsom's complete discography and current tour schedule is found at http://www.dragcity.com/bands/newsom.html
9 Bach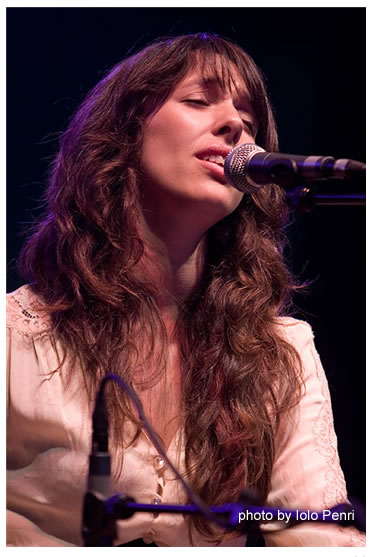 I was told it means "9 Boy" in Welsh..???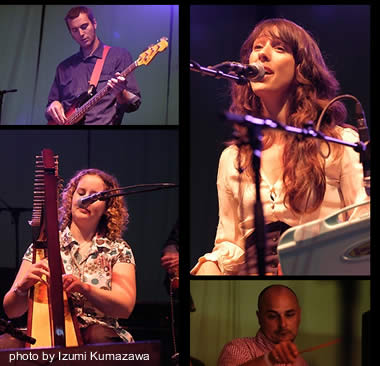 This gorgeous group has been elusive as to finding information and streaming audio online So I'll put up more photos.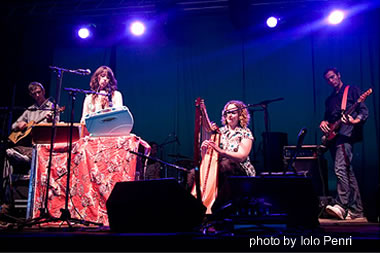 All in the Welsh Language (Cymru)
http://www.bbc.co.uk/cymru/radiocymru/c2/sesiwn/9bach.shtml
Gruff Rhys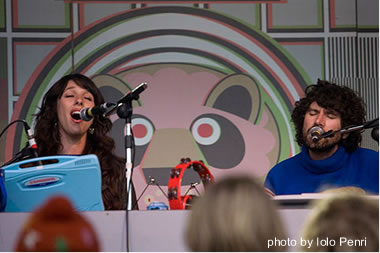 Vocals like a pop Richard Thompson, with conceptual performance intent. Using plenty of stage props Gruff Rhys (pronounced Griff Rees..) put on an uplifting and enjoyable show. Heavy on the Welsh language usage and heavy on the melodic hooks, this is one band that I was unfamiliar with that had the songwriting down so that they continued to play in my head even after all the sensory extravagance of the festival. The Welsh accent becomes apparent from the moment Gruff (who also) mans the helm of "Super Furry Animals" <LINK> opens his mouth. FINISH FROM NOTES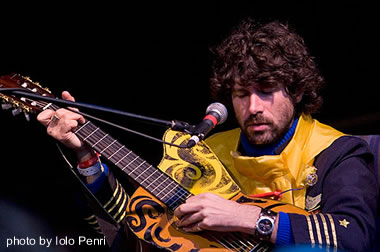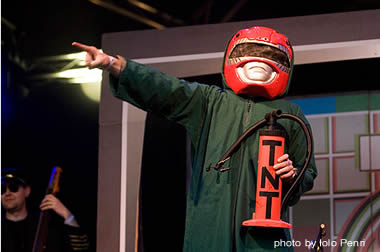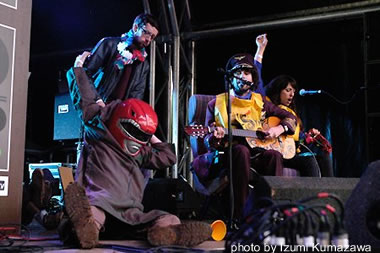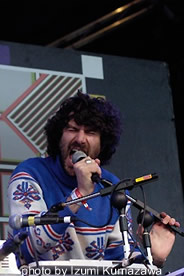 The excellent sound mix made it all worthwhile
One of the best aspects about the music was the very conscientious sound mix applied to nearly every performance I witnessed. With a powerful bank of main pa's and a simple direct placement both main stage and Folkey Dokey Tent were generally superb in the sound quality and excelled beyond many other festivals and indoor setups that I've witnessed. The Green Man Cafe was the only area that could have stood more power since I did find myself having to work myself right up to the stage front in order to really concentrate on the music. This was a real treat especially when wandering around toward the end of the festival, looking for a meal and taking longer to walk because of the crowd and the mud they churned up with their Wellies http://www.wellie-boots.com/ukmofcart/leisure.html
I'll try to find out more info about the sound crew and post it here when I do.
How did food make it into the top picks for a music festival?
It was just that good!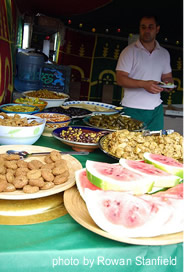 My personal favorite was the Moorish Feast Boureks I tried both the falafel and fish filled filo pastries the size of a large burger with the sauce shown here, salad and dolmas. Other great treats was the Oriental Organic pile of chowmein I got on Thursday night before the show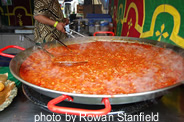 started along with my Special Brew, The Mexican Veggie Burger was also heartwarming and yes even the locally produced apple pork sausage that I would never order anywhere in America at a festival but all these Brits were treating the sausages like they were serious & safe fare and yes I guess that shoots down my chance of ever having another vegetarian G.F. And of course Pieminister ultimately creative gourmet and fair trade treatment of traditional stuffed meat pies, mine was "Chicken of Aragon" of the and the Cloudy Cider that seemed to be number one on most everybody's list.....
holy cow, Pieminister actually has a myspace page!
http://www.myspace.com/origionalpieminister
also check out this Green Man write up. that focuses almost totally on food.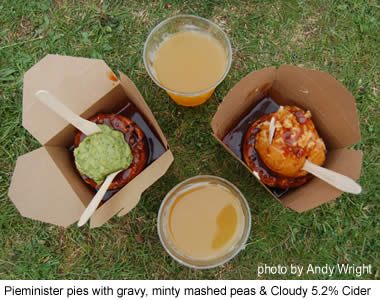 ****END***
Robert Plant
and The Strange Sensation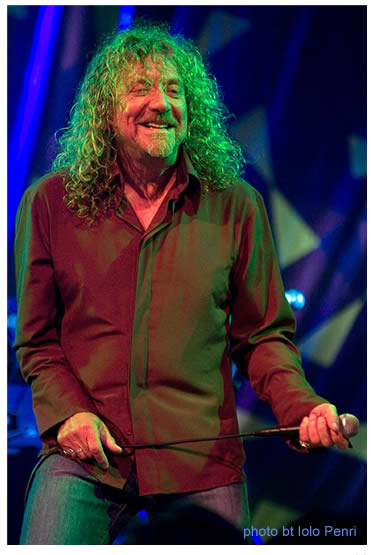 For Robert Plant the upcoming collaboration with multiple Grammy wining Americana Artist Allison Krause seems to be a very smart career move. In anticipation to this I was looking forward to a heavy ladling of the Zeppelin Brit folk slanted tunes at the Green Man. Some of the more memorable and creative tunes that I grew up with seem to come from some mythical foundation of very British influence that surface on Led Zeppelin III with songs like Bron-Y-Aur Stomp being perhaps as much "roots" oriented in a European way as the American heavy blues that dominated the earlier Led Zeppelin LP's.
Of course it was a big deal just waiting in the crowd for the living legend to come on stage. The last and only other time I saw Plant perform was in Atlanta Stadium in 72 or73 , I was 15 years old and at the encore (communication breakdown) the band released what seemed like hundreds of white doves that flew straight up in front of gigantic mirrors behind the stage. With that imagery still burned into my psyche I wasn't quite satisfied with the "Ok we'll give em rock n roll" performance which, though backed up by excellent musicians started off a bit too slicked down to get the juices flowing. But about halfway through the set it seemed like they realized they needed to downshift into the lurching tempo that the original tunes were played in if they were going to get the audience to pipe down from Yelling "Jimmy! Jimmy Page!" (who wasn't there,) over and over and start to get into the boogie grind.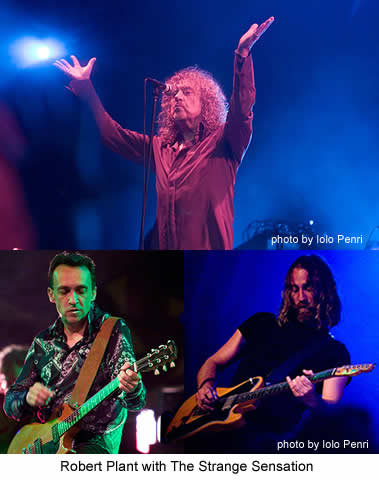 Plant seemed in good shape, very much at home onstage and genuinely seemed to be enjoying himself. Not one bit of demure humility or questions of self confidence coming from this old pro, a shoe gazer he is not. As for the current street level rumors that a Led Zep reunion may be in the offing, (just in! a Nov.26th performance in London for the Ahmet Ertegun tribute was just announced!) The only indication uttered by Mr. Plant that night was that this band, The Strange Sensation had been with him for 35 years and this was their "last tour.." Pure conjecture I know, but the very real team up with Allison Krause, the new CD titled "Raising Sand" and any plans that develop for a tour showcasing this material may very well re-jump start Plant's career and rescue him from a condition that my Chattanooga Tennessee compatriots will recognize as being "Ripe for Riverbend." Either way he is sure to generate crowds wherever he goes, but with the Allison Krause team up it'll be a very interesting crossover of the genteel folk-yuppie bunch with the rowdy old rock n rollers. I for one will be keeping a close eye on this whole show as it develops.
The Video interview with Robert Plant, Allison Krause & T Bone Burnett is posted on our current (Sept. 07) homepage www.ArtFRONT.com
Here's the link to the You tube page once that expires. http://www.youtube.com/watch?v=g5KF4dKq-6I
Oh and BTW there is some very interesting reading on Robert Plant's official web site chronicling time spent in New Orleans and the Delta region apparently soaking up some delta voodoo along with the etoufee.
I managed to locate 38 seconds of very Zeppelinesque "Whole Lotta Love" At Green Man
http://www.youtube.com/watch?v=lzsnCphUrvE
and here's a decent clip of "Babe I'm gonna Leave You" with a good nighttime shot of the biggest single audience at The Green Man event.
http://www.youtube.com/watch?v=2lc
You'll also find other videos of varying quality of this show posted on Youtube.
Rachel Unthank And The Winterset
http://www.myspace.com/rachelunthank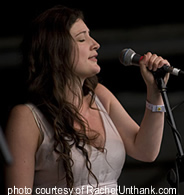 I laid on the grass and listened to this gorgeous orchestral group. Traditional English 4 piece all female vocals & harmonies. Accordion, violin keys. Amplification coupled with electric bass, keys and whispering vocal harmonies was dramatic and theatrical. With their understated lead vocalist they were one of the most relaxing and enjoyable performances I experienced. At the time they played the field in front of main stage was still green and dry enough that I lay on the grass with nothing under me for this performance. This band and 9Bach came the closest to approximating the British version of Modern Traditional folk that I mentioned earlier. (????)
A couple of the songs on their Myspace page complete with string arrangements help to bring back that moment when I finally I felt I'd arrived in Britain laying on it's green earth immersed in the missing element I'd gone there for. The whole experience reminded me somewhat of seeing Sarah Siskind <LINK>and Julie (Adams???) project "Old Black Kettle" at the Americana Folk Festival<LINK> near Nashville TN.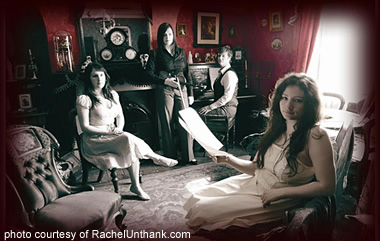 But unfortunately I missed the next group to come on stage Indigo Moss because it started getting cold in advance of the rains and my lack of sleep dropped me of in the car. Indigo Moss Looked really interesting though and there's a short write up. later on here with links and photos by Izumi Kumazawa from Tokyo's "Smashingmag.com." Another Group in this Genera that I missed was "Thistle town" which also has a short write up. later on.
My Brightest Diamond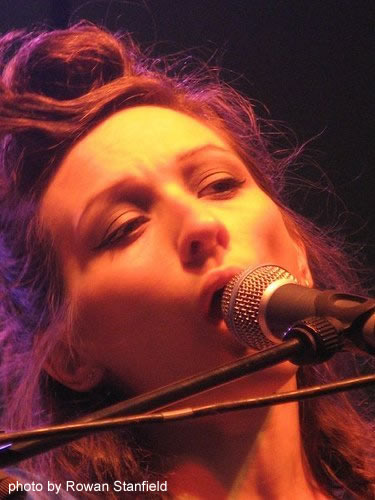 My Brightest Diamond One of the most dynamic acts I witnessed throughout the whole festival was this Brooklyn NY 3 piece fronted by guitarist/vocalist Shara Worden(SP?) Hard to categorize musically, multi styles with dramatic stage presence ranging anywhere from PJ Harvey inflected scrappiness to smooth as silk Roy Orbison covers but not before traversing some heavy, near goth moments and down tempo, jazz influenced crooning. Definitely one of the more interesting young appeal bands I've seen since "8mm." Kind of gothy down tempo with shades of Jeff Buckley then breaking out into full rock n roll freak out. You can bet I'll be trying to get some shows booked in my area for this band once they come back stateside. Definitely someone to keep an eye out for and to go see soon as You have a chance. ADD PHOTO PLUS VIDEO of one of the quieter moments of My Brightest Diamond's performance. http://www.mybrightestdiamond.com/ http://www.youtube.com/watch?v=9NKewvQndbs
Misty's Big Adventure
Birmingham, UK www.myspace.com/mistysbigadventure
A cartoon soundtrack band. Or maybe You'd call it conceptual art. There are 8 musicians, Lots of horns with piano and vocals, kind of like a "Juan Prophet Organization" for kids, or a much mellower and less angst ridden Talking Heads with a big band behind them. Seriously they seem to be extremely kid friendly but still pursuing serious musical arrangements and orchestration. Could be Sesame street's orchestra. Breaks me into the realization of a possible "positive music movement" sort of the antithesis of metal etc. . A very tight, upbeat musical experience.
Vetiver
Although I was unfamiliar with this band before The Green Man Festival it seems like The Shins or at least their Booking Agent knows who they are since they will be opening up a series of shows for them this fall. The recorded stuff has a bit of old time grateful Dead mopieness to it but they were a bit more energized in person. I give them a thumbs up for very nice songwriting and a "genuine article" feel approaching my <LINK>everybodyfields benchmark by about 25%, which is a petty high jump. www.myspace.com/vetiverse
Richmond Fontaine
www.myspace.com/richmondfontaine
Even better than Vetiver! (that's liable to get me in trouble with somebody.....) Lots of European dates on their official web site before they come back to the USA where they seem to originate. http://www.richmondfontaine.com/tour/tour.php
Reminds me a bit of our own No River City who are making rumblings of disbandment, a shame that would be.
Arbouretum
From Baltimore. A good melodic heavy psychedelic rock 4 piece. Slow & Bluesy sometimes, Brit ballad influenced sound other times. Good Songs and lyrics. Some of the recorded stuff online seems a bit "Anthem of The Sun" era Grateful Dead-ish. This could simply portend a good attitude toward cutting loose as a psychedelic jam band live. Spell their name with a "u" to avoid confusion with similarly named hip-hopsters. I'd book em for a show at JJ's or as an opener at R&B's but they seem to be in Europe until November. Check em out live if You've a chance. They even scored a spot playing on
my own Myspace page
*Honorable Mention..!
...........Beep Seals
Although I technically missed their show I heard Beep Seals playing from the main stage while I was busy mopping the morning rainwater out of my leaky, old and now retired tent, so they must have been really loud. They sounded fabulous from where I was behind the stage and I have been on a quest to locate the songs that I heard that morning through their streaming audio. The next time I get a chance to see them I'll make sure I'm in front of the stage instead of a hundred yards behind it. A lush pop orchestra of heavy bass and sweet harmonies. I think...maybe it was all in my head. Listen to www.myspace.com/beepseals
************************************
Bands I missed that other people really liked......
Battles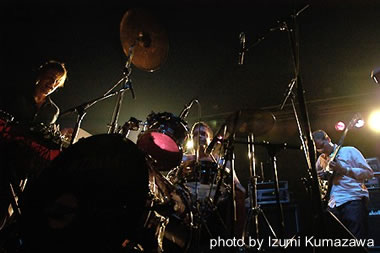 Performing in the same time slot as Robert Plant, I heard more people say they were there to see Battles than just about any other performer besides Joanna Newsom
Quite noisy full of electronics Would be worth seeing in a small venue just out of curiosity as to whether they can break free from the noise grip and do something aesthetic. I assume a bunch of electronic noise arty types will like them just out of generic principles.
Thistle Town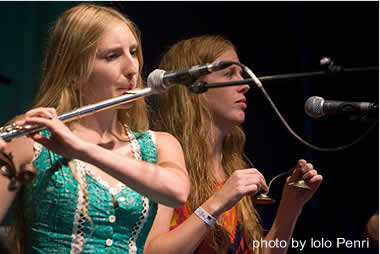 Billed as psychedelic folk rock, this group sounds a lot like what I was looking for, in my Americana parallels comparison. A genuine 4 to 5 piece Brit roots inspired folk ensemble with gorgeous melodies and memorable songs. Sadly, I missed them but I am very impressed with the highly listenable tunes on their myspace page. http://www.myspace.com/thistletown
One of the best production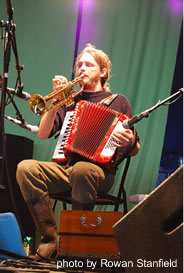 quality videos I've found of The Green Man features Thistle Town on a raga style jam with lots of shots of the Muddy incarnation of the site and the crowds negotiating it. HERE
I am going to submit Thistle Town tunes along with Rachel Unthank and the Winterset to WUTC 88.1 FM's new world music & New age program for airplay in the Southeast Tennessee/ North Georgia area plus they're streaming live on the web. Check out this very well rounded station's live webcast at this <LINK>
Christopher Rees,
Mojo Magazine placed one of his songs at their no.2 best songs spot in their Oct. 2007 issue. Another product of the Welsh talent surge, Heulwen was promoting him unflaggingly and the dude himself was a delightful person to meet. Looking forward to listening to more of his recordings...Based on what I've seen I'd book him for shows when he gets over to this side of the world.
John Smith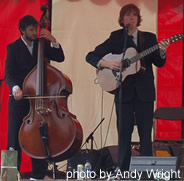 My new drinking buddies whom I met at the gate on thursday night before the official start, the first people I met at the Green Man fine bunch of English guys with good attitudes, who actually knew a bunch of those esoteric british drinking songs seemed to like this guy so I thought I'd toss him in.
Seasick Steve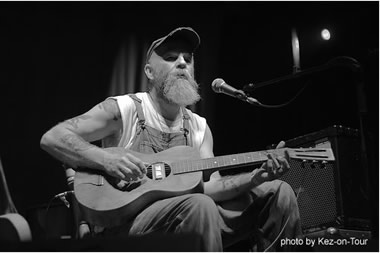 Sounds kind of American

Izumi Kumazawa who came all the way from Tokyo for Smashingmag.com and contributed some photos here Recommends:
Stephen Duffy & Lilac Time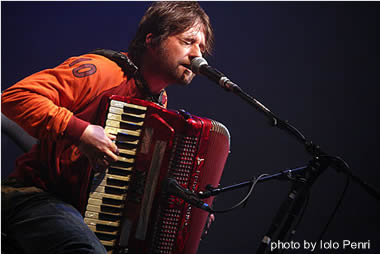 http://www.myspace.com/stephenduffyandthelilactime
Euros Child
Aliens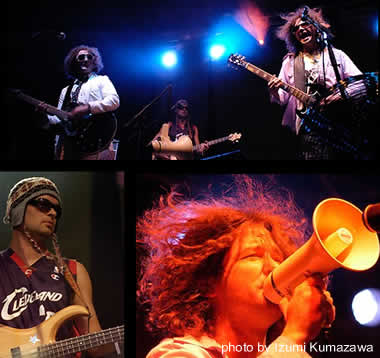 And
Gruff Rhys
who got a full write up. next door..

while perusing the online music of performers I missed out on seeing I was also impressed with ;
Dead Meadow
From L.A. Is a band I missed at the festival but upon listening to their stuff decided I like the Heavy Hendrixy-Sabbathy psychedelic sludge sounding songs an their Myspace page...

I was getting psyched watching
Indigo Moss
set up. pretty girls with Banjo, big hollow body electric guitars bass & drums. That usually turns out to be a good combination...,
Unfortunately it started getting cold fast and lying on the grass for the last possible time at this festival through Rachel Unthank & Winterset somehow pummeled my lack of sleep and unfamiliarity with the cold. My trip out to the car for warmer attire dropped me off to sleep in the back seat, one of the things these festivals demand of You. Later listening to the Indigo Moss myspace streams they remind me of an underground American ensemble from Chicago called "The Blacks" <LINK>who have developed some notoriety in the circles in which they travel. You can listen to Indigo Moss as well as most all of the other acts I missed by clicking on their link on the lineup listing at the end of this article.
Copyright 2007 by Robin Merritt, Publisher,
ArtFRONT Artist's Presentation Services
***************END*************