ArtFRONT's Concert Reviews
These reviews cover only a few of the live shows I have seen over the past year. They represent some of the very best shows, but not all of them. Just the ones I've had a moment to actually sit down and type a review for. From now on, only the most stellar performances will be featured in the ArtFRONT concert reviews. No time here to trash un-exceptional shows. That said I'd like to start off with a list and some links of Artists who have put on concerts over the last few months that were also exceptionally good but that I have not had time to write a review of. You should go see these bands & solo performers from a variety of styles any time You get a chance.
MEGAN McCORMICK
2-28-08
Performed at The Basement in Nashville, TN on 2-28-08
Reviewed by Robin Merritt
A lot of people are going to recognize Megan McCormick from her work as guitarist with the everybodyfields. Now Megan has gone off in a long deserved new direction with her own band highlighting not only her often flashy guitar work but a highly creative level of songwriting coupled with her gorgeous and distinctive vocals. This is certainly no standard indie rock band. The complex melodies go in and out of truly original, soon to be recognizable as pure Megan, to moments of slick Nashville pop and some truly kicking rock n roll. This three piece band plus one backing vocalist have all the dynamic movement, song hooks and stage presence they need to make a lasting impression. The stage dynamic is in part credited to Bass player Brynn Davies whose steel stringed, amped-up upright bass playing gave the band the necessary thump and kick to make them a real rock band while the drummer showed his musical understanding by using brushes, rolls and all the academic techniques that is a foreign language to most rock drummers. Brynn Davies , by the way is also a member of several other high end musical projects and is an alumnus of the phenomenal "Uncle Earl" all girl traditional bluegrass band that was produced in the studio by John Paul Jones, that's right, the bass player for Led Zeppelin!
I throw that information in to make everyone aware of the highly privileged musical pedigree that Megan comes with. Brilliant stuff like her work with the "super group before anyone even had a chance to notice" everybodyfields was a sure indicator that the next step for Megan McCormick would not be in any way mundane. The sound mix got a bit rough in the smallish club that night when the sound guy seemed to abandon his post but the band was doing everything a highly skilled and confident group needs to do to convince me that this bunch, who have chosen to follow the lead of one of the most talented younger singer songwriters to emerge from the Americana craze of the mid 2,000's. (think K.D. Lang without the humongous ego,) will be rapidly moving up the ladder to bigger and bigger venues. So be sure to go see Megan McCormick and her uber-tight band whenever You see her name on a marquee.
THE BOWMANS
2-28-08
Performed at The Basement Nashville, TN on 2-28-08
Reviewed by Robin Merritt
These twin sisters from Iowa, Now based in New York City, have one of the most powerful, yet gentle stage presentations on tour right now. I've been keeping up with them for about three years and the first time I saw them live was in Birmingham AL, backing up the Brooklyn NY folk rock group "Lowry." Now they are on their own and have new material to go toward their second full length CD. After opening for a number of high profile acts over the last year they packed the house at Nashville's "The Basement" which according to the bartender that evening was heavily infiltrated with music industry people out to check up on this understated phenomenon.
The Bowman twins are Claire Bowman on vocals, vocal harmonies and various percussion and Sarah Bowman on guitar, vocals and vocal harmonies. Between the two of them with only one guitar they still manage to sound like an orchestra from time to time. Sarah being a classically trained orchestral musician and the main songwriter of the duo successfully exploits the twin sisters' harmonies by combining their near telepathic soulfulness with universally understood, down to earth folk-style lyric storytelling and can suddenly turn the ship around in a very sophisticated manner by blending in almost madrigal sounding choruses of intimate vocal complexity.
To say this was an intense performance is an understatement. Sadly for Claire at this performance she had been suffering from a bout with the flu and was visibly pained at times and I could tell sister Sarah was watching her closely during these moments, knowing when to temper the song performance, reeling in the vocals and tempo softly whenever the strain was becoming too much for Claire to bear. But even with this handicap there was not a missed note and at every nuance the sisters knew how to incorporate even a weakened inflection into the grand design of their performance. This is the sign of true artistry. Even what would have been disastrous for 99% of all singers was turned into its own unique piece of art which was extremely pretty and intensely powerful all at once. I cannot wait to produce a concert with these two and have them in to perform live on the radio because by then Claire will have recovered fully and I am sure that these two are on the way to performing one of the most memorable touring shows of the year. They have dozens of shows booked in the USA and Europe so anyone with an eye for true and rare gems should check their tour schedule at www.myspace.com/thebowmans and drive as far as You must to see The Bowmans live.
JOHN FOGERTY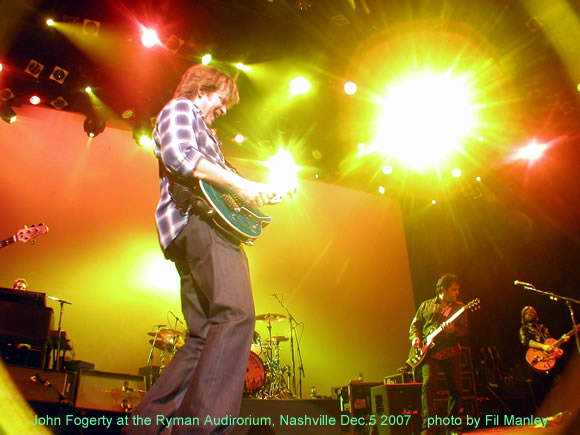 at the Ryman Auditorium in Nashville, Tennessee. Dec. 5th. 2007.
This was the next to last tour date listed on John Fogerty's "Revival" tour. Which is sad for fans because this was one of the more solid rock shows I've seen in a long time, you could even say a decade if You restrict it to long time rockstar hit makers like Fogerty. Long overdue for the recognition he deserves for writing dozens of major hit songs that have permeated the airwaves since the late 1960's and served to define the overall sound of American Rock n Roll music. John Fogerty is the author of a sound and style that has had more day to day influence on music listeners worldwide than most other major luminaries in this field. Now he is Rising up with a fervor that is an obvious plateau, and peak of his second coming after decades of legal battles with record label and former band mates that all but stopped the hit maker from reaping the big arena rewards that his contemporaries, The Rolling Stones have cashed in on throughout their careers.
Although it is not Creedence Clearwater Revival, his backing band is tightly knit and professional without being stiff or dragging on Fogerty's Front Man persona and flash. The pure originality and structure of his songs protects the live performance from coming across like a lounge act version the way the first half of another Fogerty contemporary, Robert Plant and the Strange Sensation's show at The Green Man Festival in Aug. of 2007 did before they finally seemed to figure out that the Audience wanted a more authentic version of the old Led Zeppelin songs and gave it to them. Fogerty's set was C.C.R.'s pure distilled essence from the first song . The intermittent numbers from the new solo CD "Revival" were a bit more contemporary adult in nature but worked to serve as the mashed potatoes to the spicy gumbo jambalaya of all the Creedence songs that he assaulted the largely middle aged audience with.
Apart from the precision guitar slinging and ageless vocals that could never be mistaken for any other rock star,r one major quality that could not be ignored was the political nature of most of the Vietnam war era songs that have taken on more meaning and power the second time around. Even while showing Black & White video reels of TV news footage from the 60's war coverage the message was in your face loud and clear that we are living in a time of "Deja Vu All Over again." Not one word had to be changed out of several songs that got the audience roused up in a mighty show of support for the observations of the songwriter as bard and social commentator.
One of my favorite things to do while covering a particularly good concert is to look around at the audience reaction during a powerful passage of music. There were a couple of guys in front of me who had to be in their 20's and were very fit, with military cut hair And button downed to the hilt. This was Nashville, TN one of the most conservative metropolitan areas in the Country, The show was in the birthplace of Country music and You would expect a large percentage, of the concert goers to be somewhat supportive of the current political regime's ambitions. I remember thinking during one of the newer politically charged numbers off of "Revival" that refer's to "George's war" whenever a performer gets political these days he usually alienates roughly half of his audience. But when Fortunate Son cut loose these guys were about to jump off the balcony. Even though they were probably born more than a decade after that song was released they were screaming all the lyrics and related more to what it was really saying than anyone else around me.
Fortunate Son was the last song of the night (not counting the encore.) In 1970 When I was 12 years old I bought the single 45 for about a dollar. On my way home an older kid stopped me and asked what I'd bought, When I showed him he said "Oh You got Down on the Corner." I didn't even know what song he was talking about at the time but it was the flip side of the Fortunate Son 45. I also remember my mom laughing when I tried to sing along to this classic rock and rebellion anthem against the ruling class. The fact of the matter was that at 12 years old I didn't know didly about Vietnam protest, I just thought it was a very cool sounding loud'n fast rock n roll song. Not many musicians have been able to pull off that kind of political commentary but the ones that have (Neil Young) became classics.
That combination of great melody and and solid impact in John Fogerty's songwriting has helped shape the cultural direction of rock n roll and all rock music since. When I told Sam Quinn of the everybodyfields about this show he remarked that Although C.C.R. was only together about 4 years You could stop anybody at random on the street and they's probably know 20 words of at least one of their songs. There has been a Public Broadcasting televised release of portions of a show from this tour early in 2008. Although it captured a number of Fogerty's classic rock songs and his style that has influenced all down home rock in the U.S. and elsewhere there was no comparison to the relentless energy, the familiar electricity and yes, even nostalgia that the live show stirred up. If John Fogerty goes on another tour next year I'll be right up front for another ticket.
I FOUND THIS INTERESTING DISCUSSION OF THE song "Fortunate Son" Give it a look to further your cultural understanding of the Vietnam/Iraq war parallels in popular musical culture. www.songfacts.com/detail.php?id=1916
JOANNA NEWSOM

at The Green Man Festival in Brecon, Wales August 17 2007
There's a very detailed review and write up of Joanna Newsom as one of the Top Picks for live performance including links to a live recording from this magical performance at this link.:
www.ArtFRONT.com/GreenManFestival.htm
THE BRIDGES
The Bridges perform in Los Angeles for the first time. Monday, April 16th 2007 @ The Roxy

The Bridges, power pop super-entities emerging from Alabama & North Carolina. Many people in their home sphere with awareness attuned to such phenomena noticed the Bridges youthful potential. After their light shone too brightly to ignore they were whisked away by Matthew Sweet to record in his personal studio and nurtured in the creative enclave of Los Angeles, CA. During this time period they will be released onto the public stage of The Roxy in Los Angeles for a precursor of what is possibly a long term career in bringing tingly sensations through their songs to mass audiences on a global scale. Comprised of 3 sisters, their brother and a first cousin, The Bridges were conditioned to wield the sword of harmonic power from infancy. In recent recordings, producers concentrate on the song writing powers of lead vocalist Brittany Painter (1st. cousin of the Clan.) But upon observing them onstage, accompanied by a skilled and conscientious sound mixer, the genetically predetermined vocal harmonies of the whole ensemble is simply overwhelming. And they can play their own instruments quite well to boot! Read more about the Bridges at www.ArtFRONT.com/TheBridges.htm
NEKO CASE
reigns as live concert top pick two seasons in a row
I saw Neko case and her all new backing band on Friday, April 14th 2006 in Atlanta's Variety Playhouse. (The Variety Playhouse is also racking up points in my "Venue with the Best Live Sound" category ...probably ranking second to Chattanooga, TN's very intimate, Barking Legs Theatre.) There is a review of last years Neko Case show in this same venue further down this list
This year instead of "The Sadies" as backup band, Neko has a group of very professional players who take her slick, ghostly reverb haunted studio sound to the stage impeccably. Neko's vocals were in top form and the show was sold out as was the one I saw there last February (2005.) So the first thing You fans & Neko curious readers need to do is buy your tickets in advance. This tour brings the wonderful new Studio CD "Fox Confessor Brings The Flood." alive onstage much in the same way last year's concert tour showcased "The Tigers Have Spoken," which was a collection of live recordings . The difference between this years tour and last Years is that this time around the band, consisting of Jon Rauhouse, Paul Rigby, Tom Ray, Kelly Hogan, and Jason Creps. brought precise and professional execution to the performance in contrast to last years more "roadhouse style rowdiness and country twang." from "The Sadies" which resulted in perhaps a little bit more soul & passion last time around but this year's nearly flawless performance left no room for complaints. I Also urge You to scroll on down and read the review of last year's show in order to round this description out since I am left nearly speechless and semi-exhausted from all the performances I've seen and promoted lately.
As a side note neko Case has been generating a LOT of traffic to the ArtFRONT web site lately. And since the majority of the concerts left in this tour seem to be in Europe I'd like to invite all the European readers to drop an e-mail to me, especially if You are someone involved in concert production or promotion and music distribution on the European continent. I'd like to pick up some pointers on what it takes to get artists tours set up and in motion when they are ready to cross the Atlantic. You can enjoy Neko Case further by picking up her new CD and checking out her tour schedule and intermittent blogs at www.NekoCase.com

NORA O'CONNOR
at Chattanooga's most intimate venue, The Barking Legs theater
on Feb. 12, 2005
Nora O'Connor played her vintage Gibson (it's not a J160 but it's identical except for a cutaway and slightly smaller body,) and sang in front of a 3 piece format with a slick, Nashville style, pedal steel player and bass player in tow. They were upbeat and very professional. And they played the kind of concert You can take Your grandma to. Nearly perfect in their execution, they played with formal musical training seeping from their pores. In the variety of their song selections one very obvious fact was that the better the songwriting the more powerfully Nora O'Conner's voice shines. So, if You're looking for a good mellow show in some small intimate venue and Nora O'Conner comes along You can't go wrong with her. More genius level song material that fits her style is what she needs to take her over the top and get the star light shining, just more and more brilliant songs. Her voice can handle them and her band will execute them faithfully. I chatted with Nora and got a signed copy of her new CD "Til The Dawn" which is a lovely example of what great songwriting can do for this artist. It will make a great gift for virtually any non-head banging member of any musically well rounded family.
But I must confess the last few mellow, pretty shows I've been to have gotten me in a mood to clear out my head and experience some of the audio anesthesia that Is the real reason I spend so much energy on music and to use a neo-hip street term the real "Dope" was to be found not far away in Atlanta on March 19 at The Earthlink Live which is a spectacularly audience friendly place to see big elaborate LOUD bands like..
TOP CONCERT PICK
"QUEENS OF THE STONE AGE"
Who sold out the 1,150 capacity Earthlink Live in Atlanta, GA Saturday Mar. 19, 2005
.....Slamming out their darkly tinged anesthetic in alternatingly brilliant, then sloppy doses and made it all work on the virtues of some absolutely gorgeous songwriting. That's what carries this band over the top and rescues them from being another loud but forgettable metal band, somebody in there is actually tapping into the harmonic formula that first creates darkness and lets the light leak through as in their song lyric "God is leaking through the Stereo." Joshua Homme, seems from all appearances to be this songwriter, although QOTSA has changed members with every record and some musicians seem to only come in for bit parts and then resurface again on a later recording. But since this is a concert review I'll let the bio. unfurl elsewhere and get down to telling You about the sounds that of that night.
The band Opened the show behind a thin translucent scrim. You could see the band members giant shadows until someone in the audience yanked half of it down before it opened. Red lights were blazing in front of a gleefully squealing crowd and QOTSA ripped open a wicked new number called "Someone's in The Wolf" that my friend Leslie said reminded her of old "King Crimson." I personally can't compare them to anyone, they've had a uniquely captivating sound for me since I started listening to "Rated R" which is the CD that put me on alert to the talent of this band. Many Younger fans have been keeping up with these musicians since before they formed QOTSA. I've yet to hear their very first CD or the earlier KYUSS material but Last Year's "Songs for the Deaf" became one of my most listened to disks of the entire year. Nearly every track on "Songs for The Deaf" has the power & harmony to carry me into the ethereal bliss zone and when the band slammed out that CD 's title song midway through this concert, it was one of the pinnacles of modern rock music performance that I've ever seen.
Yep, it was that good, and this is coming from someone who is hyper critical. But this concert with all it's energy and excitement and bliss, had several great sonic plateaus and then disappointingly, other numbers that just fell apart. The incredibly hypnotic drum line that is the foundation of "The Hanging Tree" gave everybody in the venue a workout. I'm glad I had an empty water bottle to pound out the beat on my knees with during that song or I might have hurt myself (I won't even get into the BIG hair mosh pit action in the center of the floor ) The best numbers by far were the show opener "Someone's in the Wolf," "Hanging Tree," "Songs for the Deaf" and at least three more from the Brand new LP including "Little Sister" in which the inane keyboard line on the CD was replaced by guitar riffs and came off way better than the original. But something really bad happened on "Leg of Lamb and Monsters in the Parasol." It seemed that the keyboard part was somehow ungodly out of tune. This spurred a shifting lineup in the band who began to swap out members, dropping down to a 3 piece unit for the more straightforward rock pieces like "No One Knows" then bringing at least 5 musicians on stage for the more elaborate psychedelic numbers like "Songs for The Deaf" and the new material from the Brand New CD "Lullabies to Paralyze."
But even when the band dropped the ball and flubbed the few numbers that just did not clear the high jump, anyone familiar with their recordings was having some kind of epiphany just from recognizing the outstanding material. One of my favorite songs from "Rated R" is "The Lost Art of Keeping a Secret" and when it just didn't hit all the same notes as the studio version something triggered in my brain and suddenly the original version that is imprinted in my cerebrum came out in a flood and I was hearing the brilliant songwriting and chilling vocals in my head for the next 2 days! That to me is what classic songwriting should aspire to. The simple fact is that this was an exciting and electrifying good time. They reached for some of the grandiosity that Led Zeppelin generated without the instrumental virtuosity of a Jimmy Page, and distilled their sound down into it's simplest raw elements.
I wouldn't dare have criticized any part of this show in front of anyone in the crowd immediately thereafter or I would have gotten my ass kicked. Truthfully, it's hard to find anyone playing music on this sonic level who can hold it in the road for an entire show. Much less reach the plateaus that were heard from time to time that evening. If every song in this concert were played as well as the best ones were, (i.e. "Songs for the Deaf,") this show would have been heavenly. It would have been TOO good, and those in attendance would have been affected in a way that they may have never gotten over, crowing on about it like lunatics until no one could stand to hear another word of it. Some are saying that this new CD "Lullabies to Paralyze" is their best one yet, others including myself feel that it is a bit too subdued to have generated the kind of fervor the last one did. But what is certain is that I have been listening to "Lullabies" constantly since It first started streaming on www.Myspace.com, and linked to through ArtFRONT's Listening Room. And now that I have actually bought the new CD plus have the memory of this concert in my head it's sure to be another QOTSA flavored year to come.
Ps. if you're lucky enough to get a ticket for the remainder of this tour do it even if You have to pay a scalper. Just the idea of their upcoming show in Vancouver, BC on Apr. 13 is making me want to run away to Canada and see them again. What a weekend that could be!
~Robin Merritt
TOP CONCERT PICK
NEKO CASE
If I had been dragged blindfolded into this concert and not told who was playing, the first vocal note that rang from the stage would've proved it was Neko Case. Neko has possibly the most distinctive sounding voice in contemporary American pop, rock, country, girl power today. I'm trying to avoid categorizing her as alt-country or even Americana but You can't ignore the influences. The vocal quality of this performance was probably the best I've seen in a concert performance in recent memory and she's looking like a rock n roller's dream girl on stage with her white Gibson SG.
"The Tigers Have Spoken" by Neko Case is one of the stellar live recordings of the year. Seeing this performance brought it to life in a vibrant spectacle that bowled over & wowed the Atlanta crowd, who, having access to a large variety of entertainers, can sometimes be lethargic and visibly bored. There was none of that in the sold out 681 capacity Variety Playhouse this night. When Neko began to sing, the electricity was undeniable.
The show was pretty much "The Tigers Have Spoken" with a handful of other songs including a Loretta Lynn number and a couple of traditional pieces late in the set just for cultural focus. There's some bit of nostalgia trip I've been trying to pinpoint and I think it's the sound of an early 60's juke box including the strange hollow monaural speaker tone quality she works to get, a weird time machine quality in her performances and her records. Or maybe she's trying to dial in the ghost of Patsy Cline During the show she kept asking for more reverb on the guitar & vocals, and said she wanted to sound as unlike her real voice as possible.
The Sadies, a countrified bunch of rockers from Ontario, served as Neko's back up band and performed their duties well even after the single disappointment of the show, which was the big curtain opening without Neko onstage. Sound quality was excellent on Neko's vocals and good everywhere else. Even with three guitars onstage there was little of the sonic clashing that is so common in many live performances.
The one thing that would have made this show magnificent would have been bringing up the curtain with Neko in the spotlight. After driving 2 hours, and almost not getting in because of the sold out show, then waiting for the performer through the band's lengthy setup, having the big curtain go up for the Sadies without Neko onstage was simply a bummer Not dissing The Sadies at all, but sorry dudes I drove all the way down there to see Neko. An hour passed, and 12 or more songs after announcing that they were "The Sadies" and they were going to do a short set and then Neko would come on, I began to worry the band might burn out before she came onstage, especially after the rhythm guitar player started sweating big drops off his forehead that were visible from my perch a third of the way back. When Neko finally did come out it was in the capacity of doing her own instrument and amp check, which would normally be endearing in a smaller venue and does add street cred to her abilities as a stage performer.
But given the magnanimous quality of her voice and her luminous stage presence, I think she deserved the star treatment of the curtain going up on her. That would have added a magical theatrical continuity to an already magnificent vocal performance.
I would normally urge You all to get out to see one of these shows while this tour is still hot but sadly the final show of this tour is TONIGHT Feb. 21 at "The Dame" in Lexington, KY. So instead I recommend You get a copy of "The Tigers have Spoken" and imagine it amplified and in living color until the next tour is announced. You can keep an eye on that information at the Anti Records Artists tours page. Get your tickets early 'cause after word gets out about this tour and CD, the future shows will probably be selling out as well.
TOP CONCERT PICK
TIFT MERRITT

Reviewed by Matthew Wester
One of the most pleasurable blends of uniquely American music styles is Muscle Shoals-style Southern soul.
Tift Merritt's new record, Tambourine solidly obscures the boundaries between country, soul & rock, and the foundational styles that they were formed from. I hoped that seeing it performed soon after its release when Tift and her band were fresh and excited to be playing these songs live might just make for a not-to-be-missed superlative show. And that's exactly what happened on a recent Sunday night in Nashville, TN in front of an attentive crowd. The live setting allowed Tift's powerful and amazing voice to be heard in a pure and direct way that you just don't get from listening to a record. There are other country/soul/rock bands around today, but few of them are playing with the sincere, unrestrained enthusiasm Tift and her band.
Coming into this concert I had a feeling seeing Tift live might bring the songs to life for me. This show delivered exponentially more than I had been hoping for. With memories of this passionate performance in my mind, the album now sounds near perfect to me.
Her band was amazingly tight and deeply in the groove for this being only the fourth show of the tour. They functioned as a collective ensemble, with each player's part being distinct, yet melding together like brilliantly engineered machinery. Imagine five musicians with mastery of their instruments laying down their parts, making strong individual statements yet listening carefully to what the others were playing, making it all fit together without any one instrument overpowering any other. The resulting sound was clean without being slick. The band's impassioned performance took the surface sheen of clean production off the studio recordings and replaced it with just the right amount of living, raw edge that drew out the lifelike vividness of the songs. With her smile beaming as she rocked out with her red Telecaster, it was obvious that Tift was very excited about playing with these guys. Their blend of feel and technique and attentive interaction is rare to find these days, and it's a huge part of what made the show so powerful.
Highlights for me included seeing Tift and Dan Eisenberg (Ryan Adams, Shelby Lynne, Mother Hips) share the keyboard bench. After she broke a string during the first song, she moved over to the electric piano while Eisenberg played Hammond C3 over her shoulder. She rocked and swayed to the sultry, sexy, self-confident groove of "Ain 't Looking Closely" while Brad Rice, lead guitar, laid down a great solo that recreated, yet bettered, the studio guitar part. Tift's vocals were perhaps the most powerful on the soulful ballads "Good Hearted Man" and "Still Pretending", the later with its silent pause midway through being the perfect dramatic moment. The funky, strutting "Your Love Made A U-Turn" (she got out three maracas and wrapped them in her hand with a scarf and danced around the stage), the sexy "I Am Your Tambourine" and the gospel/soul rave-up "Shadow In The Way" rocked out with abandon. For an encore, Tift demonstrated her talents at gorgeous harmony singing as she and her bass player, Jay Brown, brought the house to a hushed silence with the emotional denouement of the near-acapella "Supposed To Make You Happy" from her debut album, Bramble Rose.
Fans of her older stuff might have been disappointed that she played almost all of her new record and only a few songs from Bramble Rose, but they might be surprised at how compelling the live performances of the new songs are. This was an amazing show, and this tour is not to be missed by any fans of American roots music and strong-voiced singers.
~Matthew Wester, Memphis, TN
BUCKETHEAD
It was a matter of timing that I was In Los Angeles looking for something to do the night Buckethead played at The Knitting Factory on Hollywood Blvd.
Although the show was sold out I managed to find a sympathetic bouncer who let me in and I set myself up on the balcony directly above Buckethead's rig where I could see all the foot switches and buttons In case you are even less familiar with "Buckethead" than I am, this was an all instrumental performance in a straight up metal/prog style that had moments of Santana like guitar skill inserted between what was mostly slamming metal power chords. Really just straight ahead rock music for the most part. Oh, there was a weird biker looking dude wearing an apron and black rubber gloves who came onstage for one number and did a voice over which mainly consisted of the phrase "I'm gonna get me some." But for me, the most interesting part of the performance was a little red button mounted on Buckethead's white Gibson Les Paul guitar that he could press in a staccato manner to somehow kick up the volume & distortion and play the fretboard one handed without plucking the strings.
This concert, was my very first time ever hearing this artist.. In all the experience was a fun one . I won't be going "on tour" to catch his shows but I'd definitely go see Buckethead again if he comes to my hometown and I'm now interested in hearing more of the studio work that has got the guitar geeks all talking.
ANDREW BIRD
Anyone who is not familiar with Andrew Bird needs to get to know his music. And if You get a chance to see him in concert jump on it! He recently opened up for "My Morning Jacket" and "Magnetic Fields." Though he's outside of any category as far as musicianship goes, his songs are so universally appealing that I expect him to eventually become one of the more talked about performers of this era. Andrew simply writes beautiful tunes and in his solo shows performs them by playing his violin, mandolin, and guitar into a foot-switch controlled recorder, looping the live recording and then singing over the playback. This is not canned electronica. It's executed live and comes out in a truly orchestral fashion. His song titled "Action Adventure" is one of my current favorites in any category.
My experience with Andrew other than the tunes played on the radio and his CD titled "Weather Systems" was a recent sold out concert at Chattanooga's Barking legs Theatre. This show was packed out beyond the capacity of the theater and people were packed in as close as possible. I was lucky to be at the tail end of admitted guests which put me on the stage floor, literally sitting at the feet of this talented performer. From that vantage point I was able to watch up close Andrew's manipulation of all the instruments and foot switch controlled playback recorders. I gained a lot of respect for his method of performance after being mesmerized by his flawless execution of the melodies. I told John Myers of the Black Diamond Heavies about being blown away by Andrew's concert and he said "yeah I've seen him before and it was one of the best, maybe the best concert I've ever seen." And that was coming from a blues rocker talking about a melodic crooner with a violin who whistles over a tape loop.
Andrew has a lot of distinguished musicianship under his belt, and there are people who are a lot more knowledgeable about his history than I am. One particularly thorough article and interview can be found on the Scottish web sitehttp://www.stayfun.co.uk/features/andrewbird.asp . Andrew's own web site, http://www.bowloffire.com/ contains his tour list and a discography, and a couple of slower numbers from his recent "Weather Systems" CD. But You've really got to see him Live. Also, this page on Ani DiFranco's web site has more good info. http://www.righteousbaberecords.com/andrewbird/ws/
FREEKBASS
......no letup on the funk.
On May 17, I drove all the way up to Cincinnati from Chattanooga to finally see what I have been suspecting to be the great hidden phenomenon of the movement to keep the true to form Funk scene alive. Chris Sherman and his 7 piece band proved to be the genuine article at their show at a small venue called "The Mad Frog" across from the University of Cincinnati. About 170 people showed up to see their local heroes get down in the tiny club on a night when there were several other big musical events and street festivals going on the same evening. Even with pimp fashion regalia at a minimum there was still a colorful energetic stage presence that started off with excellent sound quality, which is a rare thing in the live music realm, especially whenever there's substantial volume in play. Freekbass clearly understands his electronics as well as the grooves that kept on weaving around the layered vocals and instrumentation throughout the night. The sound levels, while keeping the low end thump feeling, never overreached into the painful threshold. It was really just a good solid, non-stop playing and was one of the best performances of it's kind that I've seen. (Although I missed the George Clinton show in Atlanta last weekend, so there's no comparison to be had there.) They opened around midnight with their song "Invincible" and played for at least an hour and a half to 2 hours, still not getting around to every song in their big 2 full length cd body of songs. They have recently undergone some personnel changes , with a new keyboard & guitar player onstage, which didn't bother me one bit since it all seemed seamless to me seeing them perform live for my first time. The guitar player featured on the albums did seem a bit more aggressive, but given the tight band leadership that is evident I'm sure that anyone sticking it out with this group will develop the groove that is necessary to keep the show and the crowd up and moving. Even though they've been recently written up in "Billboard" and MTV's "Pimp my Ride" and "Abercrombie and Fitch" has tapped into their recordings for commercial video soundtracks, I still think their major contribution will be the live performances, once we all get out to see them and start getting the word out that this is the band to have live in any venue that thinks of itself as really "uptown."
THE CRYSTAL METHOD
.......made my nose vibrate.
OK, I admit I'd never even heard The Crystal Method before I caught their concert Saturday night (Apr.17) in Atlanta's Earthlink Live auditorium. I will say that it was an experience that was not devoid of aesthetic as well as anesthetic properties. In my own quest to take in all styles of performance I found it very interesting that there were so many people my own age in the audience. I figure they were there to keep an eye on their kids while they enjoyed some loud slamming music and a light show from the upper seating while the kids danced on the rave floor. I also felt nostalgic that I got to witness the creation of this type of music in the 60's with the first wave of Moog synthesizers and the archetypal electronica of Kraftwerk & Tangerine Dream among others. At that time in history electronic music was always viewed as a novelty. No one ever expressed the kind of general disdain for it that was heaped upon disco in the late 70's and sometimes gets slapped on electronica today because no one ever got overdosed with it over the radio back then and no one ever expected it to catch on as a kind of generic music for the masses, except in science fiction films. (which seem to have an uncanny rate of becoming truly prophetic.) Well I guess the future is now, at least for some people.
Without imparting anything philosophical I will say this about the music, it made my nose vibrate. Seriously, at one point my nose started vibrating like a loudspeaker cone during one particularly bassy part of the concert. And it really wasn't because it was too loud, just something about the physicality of the low frequency. This phenomenon combined with the intensely bright hot light show made me feel at one point like I was being immersed in isopropyl alcohol. (Later I found out one song is titled "Acetone".) This wasn't an unpleasant experience, it was actually kind of anesthetic. One big difference between today's electronica and the early stuff is that people like Kraftwerk and Walter (now Wendy) Carlos were truly freaky. I'm so used to seeing "rock stars" on the stage that these two guys (what are their names?) looked more like employees than musicians. They could have been guys who came with the building rental. They seemed to just be up on stage to make sure the lights worked OK and that the right buttons got pushed on the sound gear. The opening act was one guy with an English Accent and a sign from Kinko's draped over his turntable stand that said either "Hyper Wired" or "Hyper Weird." We decided it must be "Hyper Wired" because he certainly wasn't weird. If I saw any of these performers walking up the aisle into the arena I'd be nudging the old hippie to put out his joint cause here comes security.
In the end the real question was did I enjoy it? Sure, it was fun. It immersed me into a truly modern visual & aural abstract art experience and it made me think a little bit. The sound quality was good, riding that edge between as loud as possible without being too loud. Since I don't go to these kinds of events often it was still novel, at least for me. Oh, and they've got a really hi-tech web site with a virtual preprogrammed keyboard which allows You to play substantial cuts on your computer just like You were one of their employees up on the stage. I've been having fun with it. Go to http://www.thecrystalmethod.com/ Scroll down and hit the open button. My favorite cut is "Acetone" probably because it gets away from the standard dance melodies and delves into the futuristic style reminiscent of "Kraftwerk" etc. I should've bought the CD at the concert and had one of the employees sign it.
J. RODDY WALSTON AND THE BUSINESS
.......are on a roll and have something to prove
I saw them for my second time Saturday April 24 2005, in their hometown of Cleveland, Tennessee at a very nice coffee house venue called "Thirsty Thursdays" where I did NOT have to choke on toxic fumes. Even with very minimal promotion around 90 people showed up which is actually a pretty good crowd for this part of the country . Their December Christmas show at Rhythm & Brews in Chattanooga makes 4 times I've seen them perform. One thing for sure is these guys are "animated." I swear they are coming up with some rhythms that are so alien to the young crowd that the band seems to actually be trying to teach their fans how to dance to their music. I did notice a couple of girls attempting something reminiscent of 1920's flapper style gyrations while the band members heaved about on-stage with instruments in hand acting like 5 young Elvises having never discovered downers.. I remember thinking that this is really hard stuff to pull off and it takes a whole lot of mutual coordination to conduct these tight arrangements and jump around on-stage like that without knocking each others brains out.
Apart from the circus antics, it took them up until the chorus of their opening song, "Unnamed, All Gamed" which can be heard on their web site, and in "The Listening Room" to get really stabilized sound-wise and afterwards they let loose with a lot of new material not found on their first CD. If the quality of this performance is any indicator I'll be one of the first in line to nab a copy of their next disk. It must be understood that this is a young band with a lot of stylistic ambition and everything they do doesn't necessarily send chills up your spine, but it is certain that they've got the drive and creativity to keep an audience entertained. There's really no guessing what they'll be able to accomplish in the future if they continue to focus, so I'm betting these early hand made E.P.'s could eventually turn into real collectors items. I haven't got everyone's name yet but a couple of these guys are multi instrumentalists on-stage. J.Roddy seems to be the composer and lead guy on vocals, piano and rhythm guitar. The most animated member of all, Ryan Keith played keyboards, trumpet, trombone and electric banjo! Sadly for Baltimore Audiences, he recently informed me that he is no longer with the band since he did not make the move with them from Tennessee to Baltimore where they are allegedly now based. This is a shame for the Baltimore audiences since Ryan's stage presence gave a lot of character to their performances. But after the December show where Ryan only made one guest appearance, besides showing the audience how to dance to this stuff The band was still very spirited and melodic.
Keep an eye out for these guys if they ever show up in your vicinity. I was told they will be playing around Baltimore, Northern Virginia, & Cincinnati. They have at least one show in New York City under their belts. These guys will only get better with time. I'm looking forward to the next CD which is Due out Feb. 18th. College radio stations take notice and get in contact to get their CD on the air. Roddy says Baltimore has been harsh so far, (compared to Chattanooga,) so You venue people In that region need to give them a break and get them in for some shows.

Is the address to contact if You are interested in submitting concert reviews to us here at ArtFRONT. Please keep the review no longer than the longest one You see here. We are mainly looking for new, up & coming artists and innovative music that seems to be having an influence on the direction that today's music is going. Mostly we want to hear about the concerts that You feel were really special and that You are excited enough to spread the word about. All new submissions will receive a by-line credit for the author. An authors & contributors bio. & links page will be up here very soon. Other perks, and promotional benefits may be available in the future. At this early stage of this publication any articles which do not have a by-line are ©2004 by Robin Merritt, ArtFRONT Publishing.