PRESS ARTICLE
"An Epiphany of Harmonies"
The Everybodyfields come to New York
By Robin Merritt
I want to make New York City aware of what's getting ready to happen there. An as of now, little known Americana band "The Everybodyfields" is coming to NYC for three performances and the smart, real music lovers will be lined up early for the shows. After seeing dozens of major label and unknown groups of every style this year, The Everybodyfields, in my opinion, are in the position of the best live ensemble out of every style as well as having the two best recordings and becoming some of the top songwriters in the country. Let's say If I were in charge of the Grammy's or the AMA or even the CMA awards this year, these musicians would be the top contenders and would probably win in the Live performance, Songwriter and Record of the year categories. Is that saying a lot?
What if I add they should have won record of the year last year too? And why has this not already happened if these musicians are so hot? Well, there comes a time in the current D.I.Y. revolution in the music industry when a group is ready to break out. And with two world class CD's ready for the public all at once there is no sense in keeping this material in the pushcart world much longer.
During the four shows I've seen them perform recently they seemed to walk onstage as effortlessly as if they were at a milk drinking contest and consistently notch up the level of each performance to the point where the audience is enraptured, drinkers stop their gabbing to listen and new fans are converted as passionately as if an epiphany has occurred.
Go to www.TheEverybodyfields.com/snippetts and listen to the last two live recordings on the page, which were made in some tiny room with a small audience, to get a little taste of what they can do just walking onstage with their acoustic instruments.
Although sometimes compared to Gillian Welch, I find them much more complex in melodies, harmonies and natural vocal talent than Miss Welch, whom I am also a big fan of. These three twenty something's sound like an orchestra that walked out of a studio session with Marty Robbins, The Everly Brothers, Tammy Wynette and Chet Baker. Not that they sound like any of those artists but some elements of that level of songwriting, melody line and structure exist within them. Or is it that I just subconsciously put them on that level of accomplishment even in this early stage?
After seeing them up close on four occasions recently, listening to both their full length CD's and comparing them to a lot of much bigger name acts, I'm convinced they are among the top level quality-wise of anybody out there playing right now. Especially considering their relative youth vs. the complexity and maturity of their songwriting.
There are three NYC shows coming up:
Nov. 26, Freddy's Backroom, 485 Dean St., Brooklyn.
Dec. 6, Pete's Candy Store, 709 Lorimer St. Williamsburg, Brooklyn (With "Royal Pines")
Dec. 12, The Living Room, 154 Ludlow St. NYC.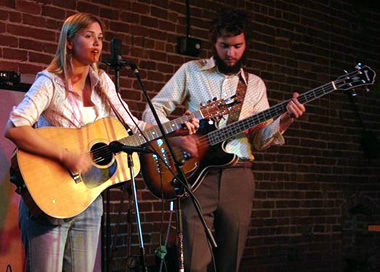 Most unfortunate for New Yorkers this time around is that dobro genius, David Richey will not accompany them on this tour due to classes he is enrolled in at Eastern Tennessee State University where he is a part of their Bluegrass and Country music program. The songwriting Duet of Sam Quinn and Jill Andrews will be accompanied by Sarah Alden of New York Gypsy punk ensemble, "Luminescent Orchestrii" and perhaps a yet un-named pedal steel player as well.
If You are looking for an evening with musicians who can really play their instruments as well as songwriters who can touch your soul, this is your chance. Also well worth your trip out will the opportunity to pick up both CD's directly from the artists, that way You get to take the complete unit with David Richey home with You as well as meet Sam & Jill before they get their own dressing room with a star on the door.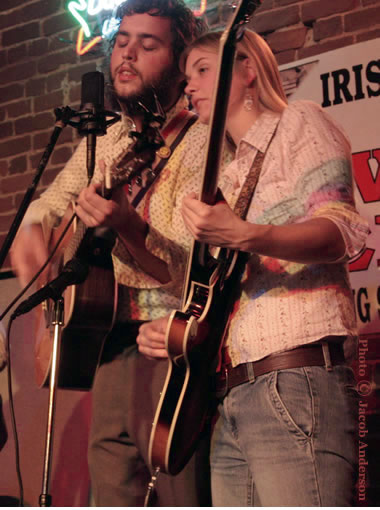 SOME EARLIER PRESS
Last August at The Barking Legs Theatre in Chattanooga " The Everybodyfields" from Johnson City Tennessee,
absolutely dazzled Chattanooga's most musically literate audience. DJ's, doctors, artists & musicians alike were all spellbound together in this intimate setting. Starting out plain and sweet with their original tunes in a traditional Appalachian style, they soon built up into a sustained crescendo of some of the best guitar work I've seen in years. David Richey 's dobro playing is propelled by the solid and beautiful harmonies of Jill Andrews & Sam Quinn's vocals. Anyone who loves traditional, high quality music of any style will be convinced that "The Everybodyfields" are here to save the world from losing out on this original genuine treasure right out of our own back yard.
-Robin Merritt, ArtFRONT Publishing
"It takes a while to understand what you're hearing when you see the Everybodyfields live because your eyes and your ears are telling two different stories. They are just too young to be making music this timeless. Jill Andrews and Sam Quinn swap bass, guitar, and vocals with easy harmony. You want to say that he's the leader, then her, but they are two inseparable elements in this group. The songs are formed by a pair of remarkable voices, hers notable for its casual maturity, his for a reediness that seems to follow hills and curves in a road that he is traveling in his mind. The vocals are complimented by the sweet and sure sound of David Richey's dobro playing."
-The Wire, Portsmouth, NH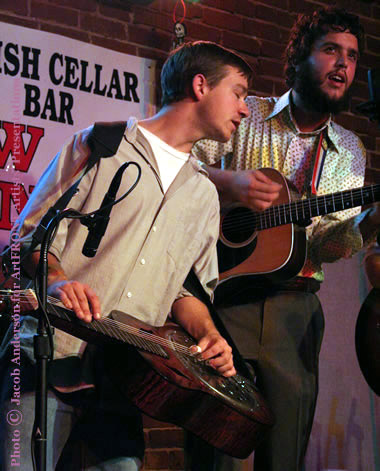 New Yorkers have always been fans of literary imagery. In one way this group from Tennessee called
"The Everybodyfields" seems particularly made for that audience. Coming from the rural south and a completely different set of sensibilities and soundscapes. The city that welcomed and nurtured Dylan's gritty rustic poetics should now be totally primed for this silky original craftsmanship. You are going to be transported into another world, where sadness is turned to beauty and no mythology is necessary because everything about the Everybodyfields music is grounded in reality.
After working on promoting several concerts in Chattanooga Tennessee over the last year, whenever I bring up "The Everybodyfields" to anybody who has seen them live or just heard their music on the radio I get the same reaction, animated facial expressions and exclamations of Oh WOW I LOVE that band!
John Rawlston of The Chattanooga Downtown Partnership, a civic group that books numerous national acts for summertime free concerts that draw a few thousand listeners every weekend said, "That group just touched my heart" after seeing them perform at an intimate venue called "Barking Legs Theatre." My prediction is that the intimate venue days for The Everybodyfields will be one of the most talked about experiences for concert lovers over the next decade or so.
The Everybodyfields have appeared on the popular N.P.R. radio program "Mountain Stage," completed two full length CD's titled "Halfway There, Electricity & The South" and This summer's "Plague of Dreams." Sam Quinn won a songwriting award at "Merle Fest" and they have been on the road in the eastern US this year playing nearly 85 shows since April. Putting all their energy into performing and recording has left them little time for publicity in the D.I.Y. environment that most upstart musicians have to work in these days.
The apparent ease with which they walk up and perform their flawlessly abandoned Appalachian traditional style original music is unique in that the laid back atmosphere they achieve is a result not of simple folk melodies but from some of the most complex melodic structures to be written in decades. Their dedicated performance schedule is obviously responsible for their natural abilities as stage dwellers.
One opening performer, Bob Carty, described them as "Basically nice kids with talent on the level of Hendrix, Dylan and Guthrie. Any one of them would be superb by themselves but together they are magic." I am in agreement on the magical quality this combination presents to us. In the same way that the Beatles individual vs. group talents have been debated over, these young genius level performers have been thrown together seemingly by the stars.
The storytelling and melodies they construct are capable of carrying the listeners into all corners of emotional experience without ever leaning on any cliché or tried and true riffs or devices. After listening to their recordings and live performances over and over, one realizes the sophisticated level of their performance because it just never wears out. The distinctive originality of this group's overall sound & songwriting in the Appalachian traditional style further solidifies "Americana" into the timeless ranks of some of the most powerful music of this century. With subject matter ranging from barroom dancing to Elvis, to historical events that changed the way whole populations live, there is never any filler or one single number that should have been left out of either CD.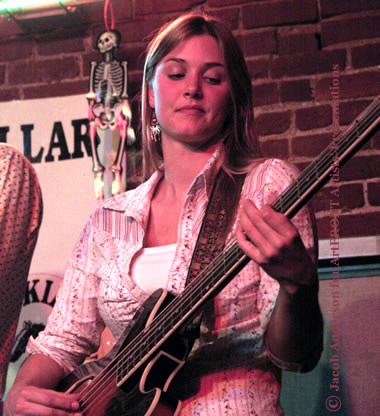 Sam Quinn & Jill Andrews handle most of the vocals but one of my favorite songs they perform live is the Merle Haggard cover "California Cotton Fields" that dobro player David Richey sang in three of the performances I've seen so far. This leads me into one of the essential points of what makes this band so special. David Richey's dobro playing is some of the best guitar work I've seen in years. The complexities of the multi-voiced melodies that come out of that slide guitar place the trio in the zone of genius.
With this crew three is enough to make an astute audience realize they are witnessing a historical event onstage. Since the group has only been together for a little over 2 years there hasn't been time for a lot of press to take notice as of yet. In a few of the press snippets that have appeared in small entertainment papers throughout the country we find the authors grasping to retrieve imagery of lost times and pastoral scenes such as the following quote from an Athens Georgia article…
5-25-05
Flagpole, Athens
"My shirt is sticking to my sides in the humidity of Thursday night, but the cool air conditioning and cooler-still three-part harmonizing of Johnson City, Tennessee's the everybodyfields are providing more than enough respite at the Flicker Theatre & Bar. Achingly beautiful are the grassy vocals of bassist Jill Andrews and the sweetly high-toned, old-timey and equally bluegrassy vocals of her compatriots. Acoustic rhythm guitarists Sam Quinn and David Richey (who also plays a mighty fine dobro) paint mental pictures of classic open-top roadsters cruising down dusty country roads as tumble weeds spin out of control into the distance and storm clouds gather in the rear-view mirror. The trio specializes in capturing some of the old bluegrass/ country feel of a place whose name reflects their sound like a knocked-about but gilt-edged Depression-era mirror. After soaking up an hour and a half of bluegrassy Appalachian bliss, I implore you: y'all've got to experience the everybodyfields - they'll have a new album called "Plague Of Dreams" out in July."
A few days ago I was driving through some very rural farmland in Middle Tennessee while listening to this music. I found myself spontaneously laughing out loud because it was the perfect soundtrack for the scenery. Cats emerging from sunny brown winter grasses, running across the road toward an old, falling down barn with buzzards drifting in the dazzling blue skies. The Everybodyfields will transport You there with some of the most sophisticated musical stylings You may have ever heard. Yes there is still beauty in the world and these musicians have wrung it out, distilled and refined it and served it up for a thanksgiving treat You will likely never forget. In a few short months since my introduction to them this music has become one of the milestones of my musical experience, much like The Beatles, Johnny Cash, Steely Dan or Chet Baker have. These are instant classic recordings to keep forever.
The Everybodyfields two full length CD's are 2004's "Halfway There, Electricity and the South" & "Plague of Dreams" just released this summer. My personal favorite was "Halfway There" but now I can't imagine not having both to liste to. Some colleagues of mine favor the newer one . Of course anyone who enjoys either CD will want to get the other one as well. Both together serve to demonstrate the masterpiece quality of these recordings and at this point I find them inseparable and I usually listen to them both back to back. When I read that the newer CD was recorded mostly in one day, at first it seemed astounding something this complex could come about so quickly, but then when I recalled the ease with which they walked up on stage and began to flawlessly pour out their songs, stories, melody lines and vocal harmonies I suddenly get it.
The real mystery at this point is in the process of their songwriting. How on earth does anyone come up with such complex interaction of melodic instrumentation and vocal harmonies while retaining the sliding and offhand character of this Appalachian style of composing? I think the answer is that the casual attitude is simply an illusion born of natural talent and fluidity of playing familiar tunes. Out of four separate performances I never once noticed them straining or struggling to reach a riff or harmony. More likely to happen is an exhaustion born of night after night on the road playing relentlessly across the eastern US. Any promoter sharp enough to book them for a show should offer them a night's rest in some comfy digs previous to their show. They deserve it and a fresh and re-charged Everybodyfields is going to be a powerful experience that can make audiences forget about their regular listening material the way electricity made the rural south forget about kerosene lamps and waking up at the crack of dawn.
I hope to find some answers in my interview with the Everybodyfields in which I dissect info from each member of this phenomenal group in hopes of unraveling the mystery and wondering if there is hope for other artists to achieve this level of teamwork & orchestration by composing and harmonizing within one of the simplest and most pure genres of American music.
~R.
More info about The Everybodyfields and venues they will be playing can be found at;
Links to streaming audio & mp3's
www.TheEverybodyfields.com/snippetts ( live recordings!)
More streaming audio….
www.sonicbids.com/epk/epk.asp?epk_id=34058 )
NYC Venues where the everybodyfields will be playing
This Press Release in Text only format & Hi-res versions of these photos can be found at:
www.ArtFRONT.com/EverybodyfieldsNYCPressRelease.htm
Other musicians mentioned in this article:
The Avett Brothers
www.TheAvettBrothers.com
www.myspace.com/theavettbrothers
The Little Country Giants
www.LittleCountryGiants.com
www.myspace.com/LittleCountryGiants
Sarah Alden & Luminescent Orchestrii
www.lumii.org
More Upcoming shows
www.TheEverybodyfields.com/shows
AN INTERVIEW WITH
"THE EVERYBODYFIELDS"
Nov. 2005

<![if !supportEmptyParas]>
The first part of this interview was spent talking with Sam Quinn, who answered all the general questions about the band. Later I talked to Jill Andrews and David Richey about their individual contributions to "The Everybodyfields."

How long have You all been playing together?

SAM QUINN: We first started playing together January 2001, or 2002? Sometime after Jill met David at E.T.S.U. Before that Jill & I worked at Summer camps together near Pigeon Forge, TN. We started hanging out before we realized we were really musicians. The weekend after Jill and I met she bought a guitar. Later she moved to California and started writing songs. We both ended up in Johnson City TN, and started singing together. Our first show as a duet was in the basement of a Methodist church. We rented it out and made some brownies and a bunch of people came.

Any plans or talk with any major labels yet?
We've had a few offers. It's all been D.I.Y. up until now. I hesitate to say just who has approached us just yet.

What about distribution? Where can people get Your CD's besides Your live shows?
Besides our live shows, people can order them through our website (www.theeverybodyfields.com) and CD Baby. We're also looking into "Miles of Music" which is strictly Americana, That's still in the works.

Tell me how the Mountain Stage performance came about? When was it and how many songs did You play? Was there any major feedback from that
Before our first album came out we sent a 3-song demo to Mountain stage. Larry Gross heard it and called a local DJ, Dave Carter who recommended us as a genuine band, I guess. Then they gave us a bunch of money, put us up in a hotel. It's been a good networking experience. A lot of people we met on that trip still put us up whenever we come through their towns and we put them up when they come down here too. Some of the people we got to share the bill with that performance were an Irish fiddler named Aleister Frazier. "Great Big Sea," Eric Johnson and Joe Rathbone.

Who is responsible for the songwriting, is it a team effort or mostly individual efforts brought to the table?
There used to be a lot of collaboration. Now Jill and I are writing our own songs. David is not writing at this time. Some of the songs that Jill and I collaborated on as more of a joint effort are "By Your Side," "Medicine Girl," "Can't Have It."

Are there ever any arguments over songwriting or other interesting elements of being in a band?
No, not really.

Do You see The Everybodyfields as being a long-term project, or do You think it will have a shelf life eventually sending You all out to do individual projects?
I'm pretty much a live right now person If it runs it's course. We all really want it to work. It's pretty much the most important thing to me right now, although my heart doesn't like to go too fast. I've got a side band I just play drums with, we're called "The Feral Throes." I've also been playing piano & accordion.

Give us a list of major influences on your musical style, especially for readers who may not have heard you yet.
Neil Young is major. I got a copy of Neil Young's "Decade" when I was 10 or 11 years old. I like David Bowie a lot, Buck Owens & Don Rich, David Byrne & Talking Heads. "The Band" is up there with Neil Young in my opinion the best "rock" band. I'm pretty much anti-Eric Clapton, anything after "Cream" he's had to work off a lot of karma. I'm a big "Crowded House" fan, and I used to listen to a lot of Blind Melon. I also like the band called "Ween" and REM and "Steeley Dan."

How about artists who are more obscure that people say in NYC and across the country may not be familiar with?
Some newer bands I like a lot are "The Avett Brothers," from North Carolina. Last weekend when we stopped our show in Atlanta they were still playing just down the street. We left our gear onstage and literally ran to see them before their show was done. Also "The Little Country Giants" are settled in Rome GA now. We heard about them in Athens GA where they are pretty well known. We're big fans of each other now. I'm glad that the WUTC radio station in Chattanooga where You are is playing us both now. I'm not really listening to a lot of other music right now. Jill and David both listen to music all the time.

Obviously music composed at this level requires some kind of background. Are You formal students of music? If so please elaborate on your backgrounds.
Sam: I'm not trained at anything except putting up drywall & painting. My parents weren't that musical. Nothing in the house really except Anne Murray & The Oak Ridge Boys. My oldest sister always had dudes hitting on her, and they would make her all these tapes. So when I was around 11 or 12 My sister's tape collection was a big influence. My sister had one friend who would come over every Friday. He had this seventies Martin he would bring with him. He would write down chords for me. I had a guitar and I'd play them over & over. Then I started playing a lot of Creedence. So I guess I would like to thank all the dudes who tried to bang my sister.

If not then where did these influences come from?
Jill has been singing all her life, in church. I don't know if You'd call hanging out with me any form of training David got a normal guitar and learned to play it backwards, which is really strange because he's not left handed. I don't know that he's had any major training other than the Bluegrass program at E.T.S.U. You'll have to ask him.

Were You students at ETSU together?
Jill Knew David from E.T.S.U. Jill & David were both in The Bluegrass program there. Also Angela Oudean who sometimes plays fiddle with us and is on our second record. I studied to be an English teacher, but I really moved up to Johnson City to be in a band called "Uncle Boogie."

<![if !supportEmptyParas]> Tell us some more about the Bluegrass Program at East Tennessee State University in Johnson City, TN (E.T.S.U.)
The Bluegrass & country Music Program at E.T.S.U. There's a bluegrass "band class" where they split You off into bands . At the end of the semester all the bands play a show on one night and your grade is based on your performance at "The Down Home" in Johnson City. Jill and David and Angela were in a bluegrass band. I wasn't involved. I meant to be but never got around to it. David Richey will have more to say about it when You talk to him since he's still involved.

<![if !supportEmptyParas]> I think that the one major question I have is how do these compositions come about? Is it a matter of three distinct melody lines added together or is it more planned out and structured than that.? Obviously You do have some serious structural concepts because Your performances are so consistent, no real "jamming" that I've noticed, but it still has the kind of flow that a really relaxed and familiar jam band strives to achieve. It amazes me how You remember these songs well enough to just walk on and play them without any visible elaborate preparation. I mean I feel like there has to be some elaborate preparation at some point in the songwriting process but the songs just blow over the audience like a strong wind in your concerts. How does that come about?
It's a treatment. One Person will bring forward a song. Jill & I will hammer it out with bass & guitar & let the others fill in where they think. Good solid arrangement, how does it come about? Years of listening to music. **Jill and I used to collaborate more on writing songs, Now it's more of an individual effort that is brought to the table.

<![if !supportEmptyParas]> I read that You recorded most of "A plague of dreams" in one day, but how long did it take You all to come up with the songs and become confident with going into the studio and approaching the recording this spontaneously?
This is a thing I really like about this second album. The first was pooled together over two years. On the new one all the songs were written closer together, that's why it's so cohesive. It's all from the same time period of 8 or 9 months. It all happened at a really good time, we were excited. I think that's the best way to do a CD. We had been playing out a lot and this is how we sound, which is why we wanted to make that recording in one day, to get the way we really sound live.

<![if !supportEmptyParas]> Do You consider "The Everybodyfields" primarily recording or performing artists?
Are we Primarily recording or performing? Both I guess. But performing before recording. I'd like to spend more time in a studio if it didn't cost so much. I really enjoy it

<![if !supportEmptyParas]> Your vocals are very distinctive and recognizable. Have the harmonies always just clicked naturally together, or was there a point when You had to strive to find a meeting ground for your harmonies?
There's good chemistry. From the first time I picked up a guitar and sang with Jill it just sounded that way. There's a natural harmony, but there's standard 3 part bluegrass harmonies we had to work on.

<![if !supportEmptyParas]> Sam, Tell us about your background & musical heritage. Polk County TN, where You grew up was a very rural place. Did You have Appalachian traditional music around when You were young or is it something You've studied and learned later?
There was nothing around when I was growing up. My friend Quincy from up the road & I just sat around a lot and would jam out. We listened to a LOT of "Blind Melon." I think it was getting out of town that helped me start a musical career. Quincy's still there with a family now. In High school we sat around with a friend's dad who was a mandolin player and a real bluegrass snob. He was a principal of the school and used to beat my ass. His name's Buddy McLarey. He still gigs with "The Valley Grass Express." He's the guy who turned me on to bluegrass around the 10th grade. A lot of people got started through him around then. Later on there was this intense "hippie" phase I went through. Even after I sort of moved on from that, the first year I went to Merle fest there were tons of hippies there.

<![if !supportEmptyParas]> Although the Americana movement is starting to pick up steam the majority of people your age bracket are listening to far different styles of music. Are You interested or involved with other styles?
As for "The Everybodyfields" it's gonna stay pretty close to that formula. It's changing a little. Jill & I are definitely evolving. It's not anything we're doing on purpose. I mean I like big, screaming guitars and all but there are things that fit and that don't fit. I'm writing a bunch of stuff these days on piano although I don't see going on the road with it.

<![if !supportEmptyParas]> In your songs your sense of history and place are very prominent. Any comments on that?
It feels good to get a lot of that off your chest. I don't necessarily totally understand it when it's coming out though. Parts of it will come separately and then later on another part of it and then all of a sudden it starts to come together and make sense Like It must've been buried in the subconscious somewhere.

What is it You want to ultimately achieve with your songs as a group?
When I started writing I started writing songs I thought were good in my head. I had to write it because I wanted to hear it. I couldn't hear it anywhere else. A good song does all sorts of things for You. It's not just a bunch of sterile stuff You've heard a bunch before. I feel it's emotive. Anything's cool if people are way into it. These songs, as sad as they are, make me happy. Also, I'm really interested in putting a new record together by the end of next year.




<![if !supportEmptyParas]>

INTERVIEW WITH JILL ANDREWS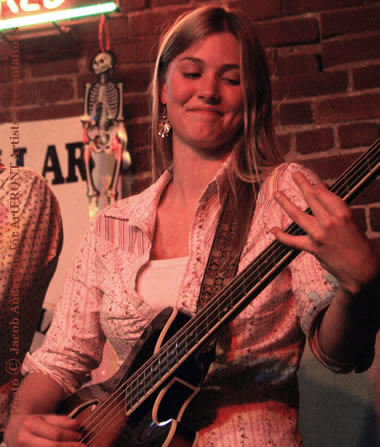 <![if !supportEmptyParas]> Jill, Your songwriting and the stories You tell are different from Sam's, I seem to pick up more personal dramatic story lines. Where do You get Your influences, and are any of the songs autobiographical or do You try to come up with a particular rural Americana flavor and then write a "story"
In all my songs I've always had a touch of autobiography, but mostly just a touch. Mostly they're about other people I see. I think Sam's songs are more about him directly. <![endif]>
I think I remember You saying that your song "Pairlee" came about from you trying to write the saddest song You could think up. …or maybe I scrambled that info up with something else going on…?
"Pairlee" I wrote after a story by Mildred Haun, titled "The Hawk's Done Gone" which I read in Appalachian studies class in college. It's about death and really sad stuff. There's a chapter called "The Apple Tree" and there's a girl named "Pairlee." It's not really about that story though because in that story I think the grandfather kills her and buries her under the apple trees. In the song the story is a lot sadder than that and not as scary or creepy.
<![if !supportEmptyParas]> There are very few singers today that I would put into the same category of Tift Merritt for having a genuine country accent & delivery in the vocals, as opposed to so much of the Nashville style commercial music where the country characteristics seem faked or overplayed. Your voice delivery & storytelling seem genuine in that way. Where were You raised and what influenced You to produce the style of songs You write?
I grew up in East Tennessee but I was born in Illinois. My Dad was a teacher at Normal State, Then My Dad got a job at E.T.S.U. as chairman of technology when I was about 2 years old. He's now the president of Morehead State in Kentucky, but I spent my whole formative years there in and around Johnson City. I was always in the church choir and the choir director was always supportive and excited about my voice. In school and high school choirs I didn't really like it. I'm terrible at music theory. I cried in front of my teachers at least 3 times. I don't really know how a person like me or Sam understands harmony but we just do. My friend Amy understands theory really well. We would always drive around in the countryside and listen to Tori Amos and sing harmony and teach each other. The community around Johnson City was not always supportive of music. At church it was supportive but at school no one was really interested. Maybe I didn't have an exact academy choir type voice, or maybe I had a voice that didn't sound trained, or maybe I just wasn't a brown noser.
<![if !supportEmptyParas]> You seem to down play your physical appearance and beauty onstage somewhat . Have You ever considered any other creative careers besides music, such as modeling or acting?
When I was a kid I used to write a lot of stories. Now I write poems which sort of turn into songs. As far as acting goes, when I was a kid it sort of appealed to me & I thought "I could do that." Modeling? Well its like being onstage I guess? Oh by the way Sam did all the artwork on the website and on all our CD packaging.
INTERVIEW WITH DAVID RICHEY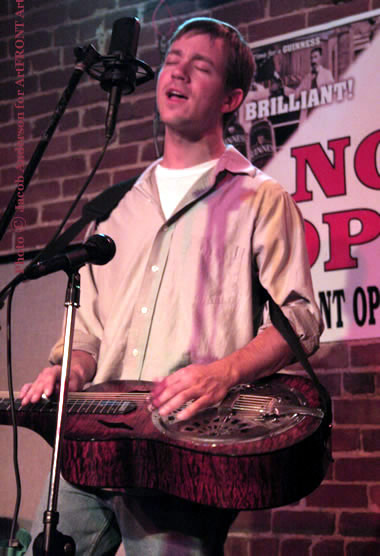 David, You're not going with them on the current/upcoming tour of New England, New York And Pennsylvania. How are they going to adjust without your dobro playing since it's such a distinctive and signature part of "The Everybodyfields" sound?
Yes it's kind of disappointing for me. Since I'm enrolled in classes I'm able to go out with them 4 days out of the week but not on an extended tour right now. I think they will have someone to fill in for me but I'm not sure who right now. They've gone out as a duet before. The last time I wasn't with them was last year around Christmastime for about a month. I guess I'll be back onstage with them when they come back to Chattanooga on Dec. 17.
<![if !supportEmptyParas]> I just got a note from Sam saying that they are probably going to have a fiddle player with them named Sarah Alden who is with "The Luminescent Orchestrii." And maybe a pedal steel player as well. How did You learn your particular style of dobro playing?
Playing along with CD's and trying to learn different songs. I had a couple years music Theory in high school and in college at MTSU (Middle Tennessee State University.) I've been in the Bluegrass program at E.T.S.U. Jack Tottle & Raymond McClain set up a system of classes & instructors for individual instruction on instruments, harmony singing & other parts. Basically instructors split all the students into bands. They have rehearsals & play shows. The Everybodyfields were never one of those bands. I'm originally from suburban Tulsa, OK and there was never any traditional music around at all. I only started listening to bluegrass and traditional music about seven years ago. That's when I decided to come to Tennessee. Before that I listened to more jam bands, bluesy rock n roll, Grateful Dead & Phish. <![endif]>
Do You play any other instruments on a regular basis?
Guitar. Just Randomly, I abandoned the whole electric scene.
<![if !supportEmptyParas]> "Why don't You sing more?" Was one of my original questions but the last time I saw You with the band You did seem to have a lot more vocal parts and were adding in harmony and back ups on a large percentage of the live songs.
I originally wanted to record some things but Jill & Sam wanted the songs on the CD's to be all originals. I don't write songs. I've tried a couple of times but so far nothing really. It makes sense for our CD's to be all original, we'd have to pay for anything on it that wasn't. <![endif]>
I have to say that the one Merle Haggard tune You covered and sang lead on was one of my favorite moments during the live performances.
That song was "California Cotton fields" Merle Haggard recorded it, but he didn't write it. It was written by Dallas Frazier. Some other songs I do lead vocals onstage are "Seeds & Stems Blues" by Commander Cody and The Lost Planet Airmen. A song called "Robbing Banks" by The Unholy Modal Rounders."
<![if !supportEmptyParas]> Do You ever consider branching out beyond your signature style of playing that is so dominant on the first two CD's?
Thinking about it I feel like the playing I did on those two CD's is mediocre at best. Yes that's my goal, to branch out and to branch out to me means to get better. My playing on the CD's is not that clean, not that aggressive. I'm more happy with what I play on a lot of the live stuff. <![endif]>
Well some of the most revered guitarists around aren't playing in a style that could be thought of as "clean," Keith Richards immediately comes to mind, and there is also a definite need for understatement as an artistic element in many cases. So what you are referring to here is not something that I feel your listeners have any problem with. How much improvisation do You put into your live performances ? And is this a conscious effort or does it somehow just flow out of You during a performance? I do detect some elaborate flourishes in addition to what's on the CD's but still always find the foundational melody that gives each song it's identity in your playing.
Most of it is improvisational. I stick to certain parts that give the songs their distinct melody but most of it is pretty much made up. I guess we just know our roles and how it's supposed to come together. There's a certain amount of improv in looking around and reading off the people and seeing how they react.
<![if !supportEmptyParas]> Are there any particular songs you'd like to elaborate on?
They're not really my songs. Some of the songs, especially Sam's I don't really know what they're about. I can hear these songs night after night and finally after six months I'll figure it out. That's what I like about their songs, they can take a lot of listening to and are pretty elusive. Finally it clicks to me what it actually means, but sometimes, like on "Magazines" not completely. There are a lot of images. I don't want to actually try to pinpoint what it means because it's really about what it means to Sam. <![endif]>
You're all some of the most natural and relaxed seeming performers onstage I've ever seen. How did you all get to that point?
It's been a process. We weren't always that way. I've been in bands before but nothing I've been this excited about.
<![if !supportEmptyParas]> David is certainly a perfectionist, and I've heard those words come out of the mouth of some very talented musicians before, and in a lot of cases those guys ended up staying at home like Sam's friend from high school because they didn't think they measured up to their own standards of quality. So we're lucky that Sam and Jill have David on board with them. I wonder what he'll think of what I'm going to write in the introductory article, where I say that his dobro playing is some of the best guitar work I've heard in years?
There's not a cliché riff on either of the two CD's and when David Richey cuts loose and starts improvising onstage it's positively brilliant in combination with Sam & Jill's harmonies and arrangements. Some of the chords David uses I don't think I've ever heard before and they are all so complex, yet appropriate and give The Everybodyfields a sound that is truly their own. When I heard a few bars from the latest CD on the radio before I had a chance to get a copy I immediately recognized them. I can't wait until the next opportunity to see them live. I only hope that they have time to rest up from their extensive touring before they come to play for us again. <![endif]>
After touting The Everybodyfields to everyone I talk to lately I've not yet heard one person say they didn't like them or even the universal decry of "I don't like country," Or even a vague disinterest from people who've actually heard them. Quite the opposite, everyone who hears them falls in love. This is the stuff superstar talent is made of. Originality steeped in tradition and confidence in ones own talents. A down home humility based on the inability to live up to ones own perfectionism could be the recipe for disaster for many rural born talents but we are lucky that playing their music comes so naturally for the Everybodyfields. <![endif]>
~R.
Copyright 2005 by Robin Merritt
Publisher, ArtFRONT Artist's Presentation Services