The Best of Bonnaroo 2008 list.
(With a few stinkers thrown in for good balance.)
reviews
By Robin Merritt
To start with here are my TOP 10 performance picks at this year's Bonnaroo.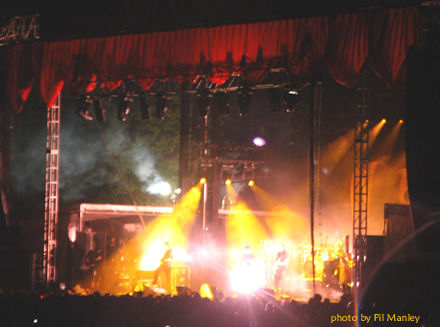 1. My Morning Jacket : My Morning Jacket These guys have proved that they can do almost anything from Prince like guitar wailing soul thumpers to Marshall Tucker Band down homey rock with a real southern accent, to a fully orchestrated psychedelic rock opera. MMJ's late night set at Bonnaroo spanned 3 hrs, (including a long break in the middle.) Playing straight through a rainstorm that dumped water onto the stage during some of their most ragingly psychedelic numbers, My Morning Jacket definitely rose to the top of my Bonnaroo. experience and set a standard for the rest of the performers that none of them really reached. This band has been steadily gaining technical proficiency, power and creative momentum since they began as a dweeb indie band out of Louisville and are gaining top echelon performance status. Their latest (though unfortunately titled) recording "Evil Urges" is also quite fabulous and these guys sound like they've been doing nothing but playing and practicing for the last ten years. Go see them now while they are at the top of their game.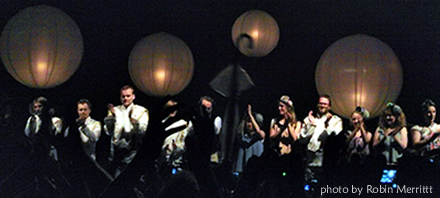 2. Sigur Ros : Definitely deserving of a top place on the list. Not being an expert on their Icelandic esoteric phraseology but still having heard a lot of their material played on WUTC 88.1fm out of Chattanooga I was familiar with their material enough to know that this was a show not to miss. In fact one of the clinchers that drove me to attend this year's Bonnaroo. Another chance to See them play in Tennessee after hearing glowing reports of their last show at Nashville's Ryman Auditorium made their 1:00am start time my main focus on this night. An orchestra accompanied the core members onstage with a marching brass band and string section. Sigur Ros live is a rare event in this part of the world and a top billing by any account. With a brand new CD under their belts they seemed to forego the earlier material that I was familiar with so it was all like a totally new experience for me. Maybe I was just all hyped up to see them but I'm glad I stayed up most of the night for the chance. After Bonnaroo Sigur Ros' next two shows were in NYC then it was off to Russia and other foreign lands for the foreseeable future.

3.Cat Power :Cat Power Redeemed herself from the disappointing solo performance I caught in Nashville a couple years back. Her solid and serious band took up all slack and allowed her freedom to roam the stage, catlike and truly weird, interacting with the audience, (never thought that would happen..) and singing like she's meant to sing. Her vocals were the wonderful smooth singer that so many fell in love with on her recordings and her band held everything together so that she could perform like she was meant to. Kudos to whatever record label management set up this band and encouraged the star to straighten up and give her fans what they've been hoping for all along. I also saw the video of this performance. It was being played distractingly during the everybodyfields set in the "Troo Music lounge." The video is something to catch if You're a fan and have a chance..

4. The Avett Brothers: The Avett Brothers We came for salvation, We came for Family...yep it was perhaps the most inspirational moment of the whole festival. Lots of people seemed charged up at the performance which featured a new cello playing member onstage. I was familiar enough with their material after seeing them 5 times already to exit early and go see the phenomenal Cat Power performance that conflicted somewhat with The Avetts. I was told that at the end of their set they all switched their acoustic instruments for electric ones and played a rousing metal number that put Mastodon to shame.. Might be interesting to see where the bucolic former trio is taking the band with all their phenomenal crowd drawing abilities of late. Catch them whenever You can, it's always a hoot.

5.Royal Bangs: This is animated, good stuff. I'd been in contact with this band a couple of times trying to work out a show for them after hearing their myspace songs a bunch of times and getting good reports on them from folks like Cody Blaine of Murfreesboro, TN band Rollo Greb. by the time I arrived at their late night set in the smaller "Troo Music" lounge tent I was pretty beat but decided to park myself at a table near the front row and took in the full anesthetic blast of these sweaty but melodic "youth-rockers" from Knoxville. It was truly one of the most energetic and fun performances of the Bonnaroo event. These guys are relatively underground at the moment but have landed an opening spot for The Black Keys on their summer tour so they should be getting more and more attention as time flows. I ended up being their meet & greet P.R. person while half asleep as people kept streaming into the tent asking me "who are these guys?" I answered "Royal Bangs outta Knoxville" about thirty times while propping myself up on the table. I also sprung good festival money for their fairly raw first CD, which I think I'll play again right now.. Catch Royal Bangs up close now while they're still unknown & relatively humble..

6. Metallica: Possibly the loudest rock performance in history. I had already given up on hearing them, opted for some rest and crept into my tent nearly a mile away from the main stage when they went on. The biggest surprise of the festival, I could hear every word and note Metallica played from where I was lying on my back in the camping area...there was no escaping these guys, they forced their music on us, and we liked it. There's something admirable about that. Not only was I able to relax and take it all in but the sound was crystal clear way out there in the quiet camp area. (My next door camping neighbors were right down front for Metallica and later said they couldn't hear a thing..) Maybe it was the lay of the land, the position of my tent at the opposite end of the valley that held the stage...but whatever it was it worked. The band sounded very together with the right amount of bounciness to alleviate any symptoms of a stiff, too-tight metal band. A great audience rapport also helped work the crowd as the singer spouted off in a machismo "we're gonna do whatever we feel like and you're gonna love us" attitude. I remember him saying "this is the first big festival they've played in America in three years" and near the end as the crowd screamed for more "You want us to play another one? We're Metallica we can play another one!" Simple and borderline moronic in approach, it was head banging in it's primal purity and it worked just fine the whole time. They should've played a lot longer.

7.Widespread Panic :I never expected to have them on this list, especially after sitting through an indescribably boring new years eve show of theirs in Atlanta a few years back where all I could think about was getting out of the show early enough to get a cab ride back to the hotel. The guitar licks I heard this time were fiery and the beat was up tempo and full of energy. This was a performance deserving of their reputation as a huge crowd bringer. .

8.Chk Chk Chk a.k.a. (!!!) : Another Brooklyn underground sensation that's been getting real interesting press for a couple of years. The thing that put them on my must see list is that they are a high energy dance beat fueled, almost hardcore house outfit that play real instruments, drums like crazy and throw down some nasty beats without being all pre-programmed and "electronica." More like a real rock band with the balls to force everybody slam to a dance groove beat. The Bonnaroo crowd seemed almost too wholesome and eclectic for them to get really rowdy for though.

9. Aimee Mann : A totally solid performance by one of the most talented singer songwriters in the country. In fact if there's actually anyone out there that considers themselves a fan of this most maligned of genera's they should just start following Aimee Mann around on tour. Otherwise move to Nashville and start delivering pizzas so You can meet all the rest of them. Seriously Aimee Mann writes the most hook laden songs not to be classified as pop out there. Despite her success in movie soundtracks the pure artistry of her music supercedes any commercialism. There are more dynamic singers but hardly anyone has her kind of songwriting ability. Sarah Siskind and Tift Merritt come to mind as competitors who could overtake Aimee Mann in a horse race but they're both much more traditional folk/country artists with a more narrow band of audience appeal. Aimee Mann is as truly mainstream in style as it gets and there's something for everyone amidst her catalog of great songs.

10.Robert Plant & Allison Krauss : Even though I still maintain this team up is the most historically significant musical event of the year, whoever scheduled them to play in the hottest part of the day on the one stage with absolutely no shade for the audience wasn't thinking correctly. Their set was cut way short and T-Bone Burnett was atrociously awful as a solo performer. (Sorry old boy. Go see the everybodyfields to see what kind of young genius you're up against these days.) The ornate "Which Stage" that MMJ played on had the most trees for shade and should have been utilized for this show. The fact that much of the crowd had begun to thin out since it was one of the last shows of the festival and also that the average audience age was pushing forty and above for this performance should have had some bearing on the decision. Otherwise, it WAS two superstars onstage who've built up their reputations on real talent and exceptional feats of magnitude throughout their careers with a minimum of commercial hype to propel them to stardom. The first time I saw this team up in April was only their 3rd performance of the whole tour. That set was much longer than Bonnaroo's and despite some technical sound difficulties in a rarely used civic auditorium that show spellbound the audience with duets such as "Battle of Evermore" rising to the expectations that this grand idea had the potential to reach. At Bonnaroo I got the vibe that they wanted to get it over with and off the stage ASAP even though their gracious attitude toward their fans created no-ill will that I could perceive. The encore that I was surprised they came back for, as people exodused the scorching field was an old traditional country ballad and as brief as any song ever written. Then they dashed off stage in a flash before any of their die-hard fans could have a chance to utter another peep. If You really want to see this performance in it's full glory go see them at some civic auditorium with a good reputation for sound quality where they can have You all to themselves and take their time serenading You and I guarantee it will be worth the ticket price.
~R.
Here's the list of ALL the bands I intended to try to see at Bonnaroo this year. Obviously this was a bit too ambitious but I got around to most of these. And of course there were a dozen or more worthy performers that I just couldn't even fit on my timetable for this massive festival.
Superdrag, (missed em! I was still trying to get in from the parking lot arrival zone. But I realized way late in the game that I was actually looking forward to a different band, the L.A. grunge pop group "Giant Drag" ...)
MGMT, (Missed them too, drat that 4 hour parking queue! One of the more interesting new bands..got them streaming on my myspace page at the time of this writing...)
Battles, My first full performance of the festival this year. Honestly I thought I could have done better onstage myself . Their one hit song sounded pretty good tho. Just not up to I Missed them at Green Man last Year while watching Robert Plant.)
Nicole Atkins, (Missed her too, ..anyone who saw this one have any comments?)
Dark Star Orchestra, Oh well, I saw part of this and although I'm a fan of the Grateful Dead, having seen the original band a number of times, I just wasn't in the mood for high end cover bands at Bonnaroo this trip.
Royal Bangs, Kicked ass! (see the top 10 write ups.)
Country Yoga by Spiritual Gangster missed it and still no clue what it was all about.
Stephaniesid I saw them the week before Bonnaroo too. Gorgeous CD! Try to go see them in a place where You can concentrate on the band's music and not in some noisy drunken scenester hangout. Be sure to get a copy of their CD too!)
The Raconteurs Due to the fame of their front man Jack White of The White Stripes if You didn't know..they got to play on the biggest stage at Bonnaroo. (The one Kanye played on.) They're a decent rock 'n roll outfit, This was a tight band, solid "new-roots" rockers, but not real memorable songs this time around. It would've been a lot more fun to have seen them in a smaller venue at their current stage of development. Lost childhood syndrome for being born a supergroup I guess. They would have been a lot better on a small stage where they could have impressed people up close the way The Royal Bangs did instead of relying on the big B&W screens for their stage presence. They certainly weren't as fun or energetic as Royal bangs but there would've been no room in the small tent to sleep if they'd played there.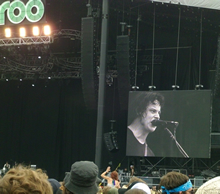 Chris Rock I wanted to see Chris Rock, being a fan and all, but it was one of those festival moments where I was totally exhausted and in need of sleep more than anything else, so I bailed about 5 minutes into his set. Another casualty of that big stage area where there was nothing but elbow room and lots of talking and pandemonium, making the long trek to my tent look like the road to heaven.
Umphrey's McGee A few years back college radio stations were playing some fairly inventive stuff by these guys. I've wanted a chance to see them for a long time and finally at Bonnaroo I wander up on a set of tight but standard sounding 90's pop orchestration with very little soul or passion to grip me in place so I wandered off in search of a Ben & Jerry's frozen yogurt bar, which, BTW was awesome in the afternoon heat and energizing to boot.
Les Claypool I heard the first few chords of his set from an impossibly crowded cafe setting and it sounded awesome. Unfortunately it was very difficult to move in the direction of the stage Les Claypool was on due to the crowd, plus I was committed to seeing another performance in the same time slot. A friend who stayed for the whole set proclaimed Claypool's awesomeness later. Wish I could have caught that one...
My Morning Jacket Win the ArtFRONT top performance at Bonnaroo this year! See the full top ten write up!
Tegan & Sarah (yeah I know just humor me.) I went to see them because of some incredibly catchy song that's been getting a lot of play on various hipster i-pods but apparently that's the only listenable one. The rest of this teeny bopper infested set was low-level commercial pop. Looks like their label couldn't afford to hire a songwriter. The only thing worse that I heard at Bonnaroo was...
Vampire Weekend. See the above Tegan & Sarah write up, apply the same analysis but include less balls. Commercial pop, juvenile, lowest common denominator marketing at it's worst. People who listen to this stuff are too young to have been exposed to anything good.
The Swell Season Missed em, & didn't hear anyone talking about them either.
Rilo Kiley I didn't know what she/they sounded like, I needed to find out. Well it's pretty much plain brown wrapper Nashville commercial pop. There's apparently people who like that kind of stuff.
The Fiery Furnaces (yeah well here's one for the kiddies.)
!!! (or Chk! Chk Chk!) A badass techno dance band that can actually play real instruments! See the top ten write ups.
Panel Discussion: Social Change through music : Missed it, Let's hope somebody figured out how to pull this off...
Cat Power: See the top ten list!
Iron & Wine : I wish I had seen this ultra mellow singer's ensemble at a much smaller, quieter venue. Honestly, none of the bigger stages at Bonnaroo was appropriate for their music. This is something You want to sit back and pay attention to, without having to jostle with a big antsy crowd that's talking louder than the music. I've always been a fan and hope to see them again somewhere more comfortable and a lot less distracting.
Mastodon (kind of last decades leftovers I know..) But I know a lot of people who listen to them and their recordings do have a pretty attention grabbing dynamic, but it just wasn't there for this performance. It just seemed like they were up there, doing their thing, not much concern about it. I didn't stay around long.
Zappa Plays Zappa (Hey it's Dweezil!) SIGUR ROS (perhaps the clincher that made me bite the bullet and go to the festival this year.)
The Avett Brothers (seen them 5 times already, yeah!)
Levon Helm Where the hell was I for this one? Another casualty of festival overload...His new CD is masterful. I've got to get around to seeing this guy before he kicks the bucket.
De Novo Dahl
THE EVERYBODYFIELDS (don't capitalize when publishing articles about them... they can get away with silly demands like that cuz they're so fabulous...I've seen them FIFTEEN TIMES already!)
Robert Plant & Allison Krauss (This will be my second time seeing them perform together, BONUS!)
O.A.R. (they're not emo are they?) Well I heard some recordings and they sounded like they might be good but what I heard here was about like...uh just read the Umphrey's McGee write up
Death Cab for Cutie I got to hear the last part of their set After Robert Plant & Allison Krause. It sounded okay, kind of solid but uneventful. Some recognizable tunes. A very genteel looking crowd assembled for this one. Kind of looked like a bunch of suburban Atlanta office workers or something?
Aimee Mann Another top ten list contender!
Bombadil ( Because they're a good fun band and they only made $90. last time they came to Chattanooga.) Know your mushrooms Q&A (because You never know when it may be time for the stomach pump.)