from: Robin Merritt
ArtFRONT Sponsored Events
www.ArtFRONT.com
PRESS RELEASE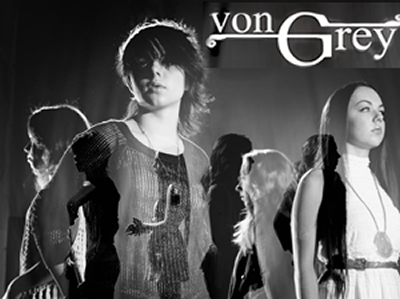 Introducing

von Grey


with Jennifer Daniels

&

Wade Trammell
Live @ Barking Legs Theater
1307 Dodds Ave. Chattanooga, TN. Saturday Aug. 18th 8pm. $10 advance $13 door. All ages welcome
A special event featuring RedLight Management prodigies

von Grey

, Chattanooga folk legend

Jennifer Daniels

and a special performance by winner of US 101's local music award Wade Trammel

"von Grey, the most talented young group of girls in Atlanta music…musically seasoned with a sound that shows off their classically-trained execution and mature songwriting"
~ Starletta Watson, Little Five Points Local Music Examiner

Alpharetta act to open for Sarah McLachlan
" the von Grey girls are craftsmen, well beyond their years in writing...their focus and humbleness is rare...they have all the tools to make it happen on a big scale...'"
by Adrianne Murchison, The Atlanta Journal Constitution

von Grey
is a rarity in the world of contemporary music. Classically trained sibling prodigies
Kathryn, Annika, Fiona and Petra von Grey have
suddenly burst into their own identity as creative artists, songwriters and performers. T
he Atlanta-based quartet
and Multi-instrumentalists are gaining recognition and support from Grammy winning record producers and major artist management group Redlight Management, who works with successful groups as diversified as Alabama Shakes, The Decembrists, Faith Hill and even local Chattanooga upstarts Machines Are People Too. Von Grey is building on that foundation by performing upwards of 200 shows in the past two years, from intimate venues, to music industry showcases to high profile supporting gigs with Sarah McLachlan, The Chieftains and more.
www.vongreymusic.com
www.redlightmanagement.com/artist
von Grey's forthcoming five-song EP, is recorded with GRAMMY® award-winning producer/engineer Nick DiDia (Bruce Springsteen, Train, The Gaslight Anthem.) Everywhere they pop up von Grey is being recognized as a significant talent and most likely, dawning future mainstays in the entertainment world. When presented with the opportunity to introduce von Grey to Chattanooga's music loving public ArtFRONT immediately chose to sponsor their debut here and has matched them up with the most appropriate foundational talent our city has to offer......
Chattanooga's own musical phenomenon
Jennifer Daniels
jumped at the opportunity to balance out this concert with her own mature, complex femininely crafted melodies. The depth and beauty of her songwriting and vocals has inspired crowds not only at home but throughout the nation's most refined listening rooms and folk festivals on a regular basis for the last decade. Always a crowd bringer Jennifer, has stepped out of the spotlight for a while to raise her twins and develop a teaching career paralell to her musical success. Now with her husband Jeff Neal, Jennifer is finding time to embark on more concert tours and this hometown appearance is sure to draw loyal fans out to see her emerging from the cocoon to dazzle us once again with her full instrumental setup. Jennifer currently has her most recent recording project "Come Undone" in hand to compliment her three previous award winning album releases, Fists of Flood," "Dive and Fly" and "Summer Filled Sky." Fans of Jennifer's music know her to be a truly poetic and introspectively gifted songwriter and singer. People are often heard commenting on the meaningful experiences they gain from contemplating Jennifer Daniels' music for a long time after first listening.
http://www.reverbnation.com/jenniferdaniels
Wade Trammell
was spotted by Chattanooga Country radio mainstay US 101 and proclaimed a winner of their "Backwoods" local music talent search. When von Grey manager/agent Rich Piombino was searching for local support for this show he reached out to his friends and colleagues at US 101 and Wade Trammell and his full band was their top recommendation for upcoming local talent and live performance to balance out the youthful and sometimes rustically inspired instrumental and vocal presentation of the sisters from Atlanta. Wade has been touring in the southeast playing local festivals and concert halls and gaining a following through the popularity of his musical style and the passionate conviction of his lyrical and performing style. His popular song "American Hero" taps into the collective mindset of a large percentage of solid true-blooded American music lovers. Wade's full six piece band will perform a set of his contemporary country-rock songs at the end of the evening for a rousing finale to all the energy and intense spirits sure to be generated by all these uber-talented ladies.
Wade Trammel's music on Facebook
Feel free to contact me for information regarding interviews or other press materials on any of these artists.
~Robin Merritt