From: Robin Merritt Publisher
ArtFRONT Artists' Presentations
www.ArtFRONT.com
e-mail correspondence to:


PRESS RELEASE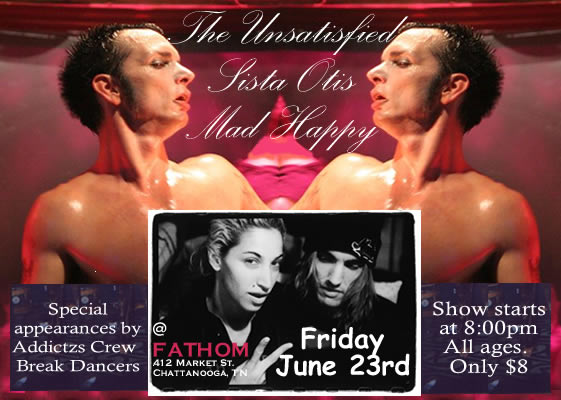 On Friday June 23rd @ Club FATHOM 412 Market st., Chattanooga, TN 7:30pm $8
"Mad Happy" with "Sista Otis" and "The Unsatisfied" more artists T.B.A.

A special Underground Rock, Hip Hop Funk and Urban Folk treat in Chattanooga's largest all ages venue.
"Mad Happy" The Pensacola, FL Hip Hop/Funk couple have a new CD produced by Chris Frantz and Tina weymouth of the Talking Heads, Titled "Renegade Geeks. Ultimate dance rock with all the latest elements of techno, rap funk & hip hop. Listen and learn about this couple's very interesting bios at www.myspace.com/madhappy & www.madhappy.com
Sista Otis, opens this show with one of her intense solo performances. She is the front girl of "Sista otis and The Wholly Rollers" Detroit's highest nominated local rock music award winners. Sista Otis appears in a special solo performance designed to open up awareness of the new urban folk hip hop movement. Listen to Sista Otis live in person on June 23rd & with The Wholly Rollers online at www.myspace.com/sistaotisandthewhollyrollers and www.sistaotis.com More local & regional artists have been invited to play this show. Leave it for now that they are all of the more "theatrical" variety of rockers.
Just confirmed....
The Unsatisfied have now accepted a spot on this bill. Eric Scealf , Johnny Stockman, Wayne Chadwick, Damien & Doug Bales are on the throne as Chattanooga's senior glam slam trash rockers with one of the most intense stage shows in the country. Hundreds of their fans at last years Riverbend concert dashed past "Cheap Trick" who were playing the same time slot as The Unsatisfied to opt to see their favorite local heroes do some of the most athletic and hard core influenced music that has ever been thrown down. Eric has been compared to Iggy Pop in his stage performance and has also recently proven himself as a pop icon caliber performer in the recent "David Bowie Experience at Memorial Auditorium. If You've not yet experienced the Unsatisfied now's your chance to see them in a smoke free environment where You can even bring your kids...or else let just them run wild at this high energy show. www.myspace.com/theunsatisfied www.theunsatisfied.com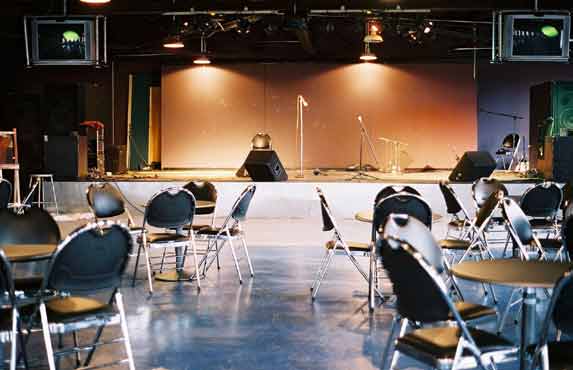 "Chattanooga really needs a venue of 500 to 1,000 seats along with a good talent buyer."
~ Joshua Daniels, formerly of WUTC 88.1 FM.
ArtFRONT Artists' Presentations opens its downtown Chattanooga concert series
Utilizing the excellent 800 plus capacity, concert & performance space upstairs at 412 Market St., which has up until now been used exclusively by Fathom Liquid Arts. ArtFRONT will be sponsoring & promoting concerts, Sunday through Thursday nights by artists from all musical styles, from rock to punk, country, pop, indie & experimental. ArtFRONT will be inviting high quality bands & performers to perform in this excellent large capacity venue, looking to bring in up and coming artists who normally would pass by Chattanooga on their tour due to a previous lack of a venue with this large capacity. These shows will also be an excellent way to expose local Chattanooga bands to a broader audience.
This venue is a music showcase with the focus on performances, rather than a barroom type experience. ArtFRONT will be able to bring audiences of all ages into this large performance space to see some of the more dynamic touring acts which are on the verge of breaking into the bigger concert & recording arenas. For those who would like to partake in a drink or sample a variety of restaurant fare beforeor after a show, or during breaks, there are several bars and restaurants directly across the street and adjacent to the venue. The Big Chill and Buck Wild, Both directly across the street, will offer discount drink specials to patrons of The ArtFRONT Concert series at Fathom on nights when there are performances. In addition "Sticky Fingers" barbeque will be providing food specials and Greyfriars Coffee & Lupi's Pizza are all within one block of the concert hall.
The restrictive 21 & up laws and thick clouds of cigarette smoke have been keeping a large portion of the music loving community away from the barroom type establishments which have been the only choice to see the majority of the live acts coming to town. For these concerts all smoking will be outside. Rather than compete with the bars we would like to be able to share these acts with other venues which cater exclusively to the 21 & over party crowd that is in full swing in downtown Chattanooga and other cities in the region. Hopefully, we will be able to double book some artists in these other venues as well, ideally matching each artist with the local venue most appropriate for their style of music and audience.
Future plans include a new Market Street Entrance makeover, including solo and acoustic acts playing just inside the entrance to the venue which is across the street from Panera Bread on Market St.
ArtFRONT Publishing is an Artists' & Writers' Representation/Presentation service. Our mission is to bring new talent to the attention of the Arts loving public and to the larger museums, galleries and publishing industries. Originally conceived as a "gallery in a magazine," we are now branching into the musical performance booking and promotion arenas. ~Robin Merritt Publisher
Go to www.ArtFRONT.com to listen to & read about bands who we are really impressed with, many of which we are inviting to play.
A virtual tour of FATHOM Originally designed for musicians and their agents is found at www.ArtFRONT.com/ClubFathom.htm
ArtFRONT sponsored Shows Coming to The Venue at FATHOM, 412 Market St.
Thursday May 26, 8pm
"THE UNSATISFIED"
with "POSSIBLE PLAYGROUND"
$8 all ages
*******************************
Tuesday May 31, 9pm
"COPPER"
with "ACTRESS"
$8 all ages
*******************************
In addition We have a long list of bands we will be inviting to play these shows.
Several groups including "8mm" which is N.I.N. Producer, Sean Beavan & Wife Juliette's elegant new downtempo trip-hop duo have already expressed interest that they want to come & play here on their next tour.
We value Your opinion on music!
Any suggestions on artists You would like to see come & play in this Chattanooga venue will be taken seriously. Please E-Mail any ideas & info. on artists who You would like us to consider contacting for a show to .